In the house of Hakkas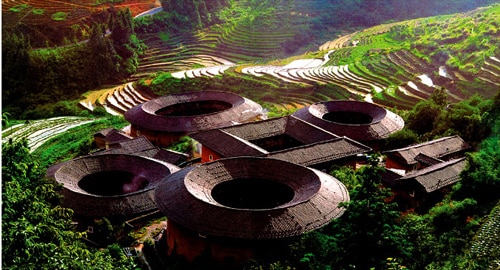 The houses of Hakkas in China are covered externally but with open interiors. Like a circular fort. There will be many homes in a house. In the middle there is a courtyard. A well in the courtyard. A playground and farming space. An illustration of how the life and home of a population are related. To this amazing village of ancient technology in China...
In my computer desk top there was a wall paper of 'Nalukettu' (A house with four wings and a courtyard in the middle). That was an icon of my affection to my place and my pride too.. A nostalgia of witnessing the life and throbs of a generation merged with the nature in the middle courtyard chatting under rain and mist. Seeing this picture, When my Chinese friend Hanpeng Min
( Finding difficulty to pronounce his name we call him as Leo) asked what that was I became very talkative for the same reason. But he put out all my enthusiasm. He told me that there is something in China that can challenge this. Even though I had lived in China for ten years, I had never heard of such a thing. The problem is not with China, it is with me. I felt guilty for not being able to observe such things in between my busy business engagements. Any how I decided to see this. Leo himself arranged for the journey. I had travelled in China several times for business and otherwise, but this journey was completely different.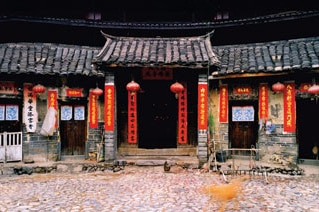 The journey was to Nanging in the Fugian province where I was staying. When we entered into the inner roads of Nanging after one hour drive on the high way, we could see the welcome boards of Tourist department. There were hilly area with green tree plantations on both sides of the road. There was a traffic jam on the road due to the unexpected land slide from the hills in the rain. Even though the drive was blocked for a while, since there was cool breeze to accompany us, it was not boring.
We stopped our vehicle when we reached a big entrance and a ticket counter. Our friend bought tickets for us. We continued our journey with a guide. There are four more kilometers to that place. A road with many curves, ups and downs. A place filled with trees and bamboos. A very small stream flowing from the hills. Some rare birds. The vehicle stopped on a high place and I looked down. In the valley,we can see Hakka houses in circular and square shapes. Like open bronze vessels Like tiny tiny forts. Really an amazing world. Smoke is rising through the chimneys of the Hakka houses. They are getting ready for their lunch. The guide explained.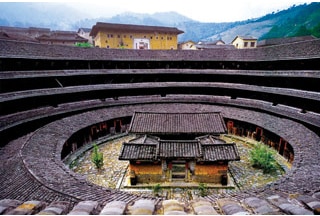 He started going through the history of Hakka houses. These houses belong to the Hakka language speaking Han chinese people who lived in various places in Central China. These were built during the period when they migrated to Gandong and Fujiyan provinces in the southern side of China. In the insecure situation of migrating to an unfamiliar place, they lived in groups. These houses called Tulou were really like forts. They are built in circular and square shapes. In the ground floor there are no windows to the outside. There is only one entrance. Each floor is for different purpose. The ground floor is for cattles. When the guide told this, we understood that it is only history. Now various articles for sale are displayed there for tourists. The first floor has the storage cells for food. From the second floor onwards they use for residential purposes and other matters.
When we enter through the main entrance we can see a vast central courtyard and a well in it. Only the outer wall is made of mud and stones. The interior is made of wood. All the big pillars, walls, roof, doors staircases and windows are completely made of wood. The wide outer wall protect them from strong wind, earthquake and low temperature of the winter. Moreover it safeguards them from the enemies also.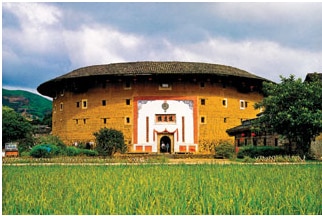 The house in circular shape is divided in to three parts. Most of the houses in small, big and middle size circular shapes are of three floors. In this about 20 families (About hundred members) are live. All their celebrations and wedding ceremonies are conducted in this middle courtyard.
The rain started while the guide described the history. We ran into the stalls in the ground floor. Bamboo baskets like those made in our country, dustpans and some other articles were displayed there for sale. We entered into a house to enjoy Hakka's food style. The orders were placed by the guide. Small fish, duck dipped in sauce, chilli chutney, soup of black skinned chicken and hot steamed rice. And there was home made liquor (like our toddy). Everything was delecious as this journey. After a sumptous meal we bought some articles and returned.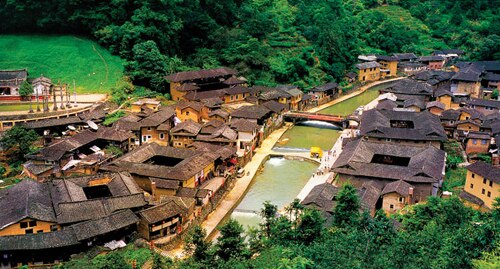 While siting in the car and sleeping, a beautiful dream came in to my mind. To build a small Hakka mixed with Kerala style on the shore of Periyar in my country, and to live there as a joint family.
Travel info:

Hakka Villages of China


The Hakka dwellings, known as Tulou, literally mean 'mud buildings'. Tulou come in different shapes and sizes- rectangular, circular, pentagonal (5-sided), imperial style, oval etc. The most common are rectangular and circular shapes. These are found within the county of Yongding in China. UNESCO'S World Heritage Committee added Hakka Tulou earthen houses to its list in July 2008.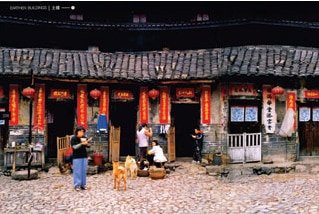 Getting There:


The Tulou's are scattered in the countryside outside of Yongding. Yongding itself can be reached by few buses every day from major cities such as Xiamen, Quanzhou and Meizhou. There is a direct bus (12.00pm) every day from Xiamen to Tulou.


When to visit:


The majority of the tulou's are concentrated round Yongding county which is in southwestern Fujian, bordering Guangdong. Tulou can be visited anytime of the year though it is probably prettier in spring and autumn.


Tips:


Chinese visa: A Chinese visa is essential for entering mainland China. Apply to Chinese embassy or consulate with your passport, a fee (depending on what type of visa you're obtaining) and a signed form that the embassy or consulate provides. Single-entry visas to China are usually valid for 3 months from the date of issue, and will permit you to stay in China for a maximum of 30 days. Most people need only to apply for a single-entry visa. Special Tourist Visa: Those who like to travel through China by his/her own vehicle or on foot have to find a travel agent in their own countries first and submit the documents specifying the name list of the travelers, touring schedule and the vehicle information through the agent to an authorized international travel agency in China three months in advance.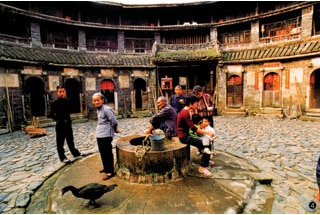 Contact:


Chinese Embassy, New Delhi, 50-D, Shantipath, Chanakyapuri, New Delhi-110021. Ph:011-26112345. Fax:011-26885486. Website: http://in.chineseembassy.org, http://in.china-embassy.org, E-mail: chinaemb_in@mfa.gov.cn, http://in.china-embassy.org/eng/zgly/

Consular Section Ph: 011-24675559, Fax: 011-26111105. Gate No.4, Chinese Embassy, Nyaya Marg, Chanakyapuri, New Delhi-110021

Visa Application and Collection: Monday to Friday: 10:30 A.M. to 11:30 A.M. (Except Holidays)

Chinese Visa Application Service Centre, Delhi, First Floor, Commercial Towers, Le Meridian Hotel, Raisina Road, New Delhi 110001. Ph: 011-4356 5225, Fax: 011-4356 5229. E-mail: delhicentre@visaforchina.org. Website: www.visaforchina.in

MUMBAI Address:

9th Floor, Hoechst House, 193 Backbay Reclamation, Nariman Point, Mumbai 400021, India. Ph: 022-56324303/4/5/6
website: http://mumbai.chineseconsulate.org/eng/. E-mail: chinaconsul_mum_in@mfa.gov.cn, chinatrade@wsnl.net (Commercial Office)

Other Contacts: China Travel Service, Head Office, Address: 2, Beisanh


Text: Suresh Desham
Photo Courtesy: Qu Liming (C.I.P)
Translation: Balachandran