Cranes' Heaven
Keechan in the Middle Asia is the heaven of cranes.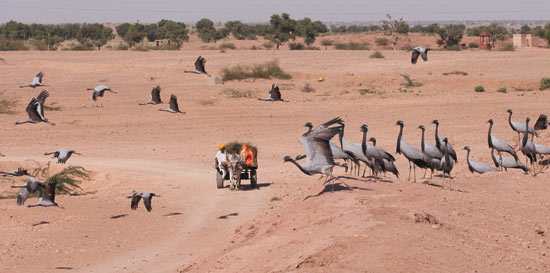 Passing over Himalayas, more than a hundred wives have reached Keechan near Jodhpur, in search of husbands. They have came here in a big group to take their husbands to Turkey, Mangolia and so on.
When we started our bike from Janglu village the villagers warned us, 'From here onwards there are not many shops, so it will be better to take some water with you'. They were right. You can see only sand waves created by wind in the vast Thar desert on both sides of the narrow road which can let only the width of a tractor pass through. Occasionally there were small small villages. There were also sand humps which blocked the way. While crossing those humps, losing our balance, some of our bikes fell in to the sand.
Occasionally we can see villagers coming from the opposite direction. The children playing in the sand waved at us. To Kishansar from Janglu. The houses in the desert were like huge umbrella mushrooms. Reaching closer, they looked like baskets placed up side down. The roof is made of twigs of neem tree Although it was very hot outside, inside the huts it was not at all hot; in fact it was a little cool inside.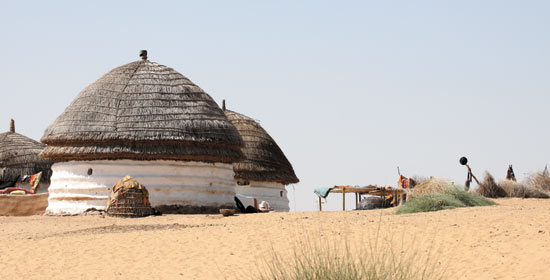 From there we headed to Panchu village. Then to Zayeensar, Bhelu and Chimara. We were passing the villages very fast because of the high speed of the bikes. We reached Keechan by noon. Here is the camp of the wives who have come here in search of their husbands. From the highway passing through rows of houses we reached the slope of a small hill through a mud road. We parked the bikes and climbed the hill. When we reached the top, we saw a lake on the other side. There they were standing in a row. They looked like they woke up from ashes, with red eyes and a tie on the neck.
This village, Keechan is known to the public because of these wives. Keechan is the migrating place of the cranes named 'Deomiselle cranes' which are facing extinction in the world. These cranes with their big wings and small bodies come from Middle Asia and Europe. There are even folk songs in Keechan about these birds which reach Rajasthan after passing over many countries. One of these songs says that these birds are wives and they are coming here in search of their husbands, covering many countries. It is said that when they fly back, they will be pregnant.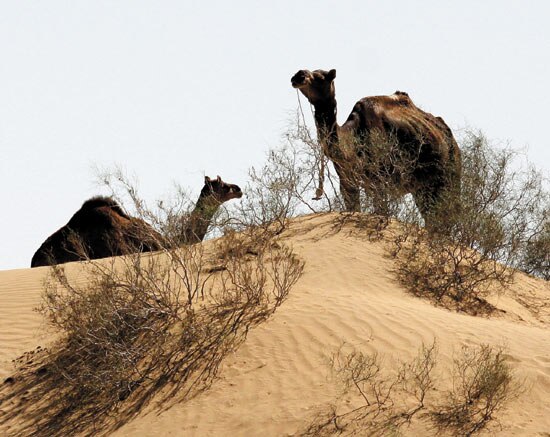 When the severe winter becomes unbearable, these cranes migrate to some other countries. Even though their colour is grey, the black on the neck gives beauty to these foreigners. They come here during the festival season of Keechan. The villagers compete to give them graines. They fly making the sound 'kur kur'. It seems that, the villagers call them 'Kurjan' due to this reason. The act of feeding them with grains to them is called 'Chugga'. Their migration is during October to April. Many people from various parts of Rajasthan come here, only to see these birds. More than even ten thousand 'Kurjans' have reached here in some years. Even though the number of birds visiting her are reducing , the number of tourists who come to see them are increasing.
When the cranes fly high in groups, it looked like clouds moving fast in the sky. On hearing the starting sounds of bike engines, the remaining cranes which were sun bathing, also flew away.
Did the wives meet their husbands? Who knows?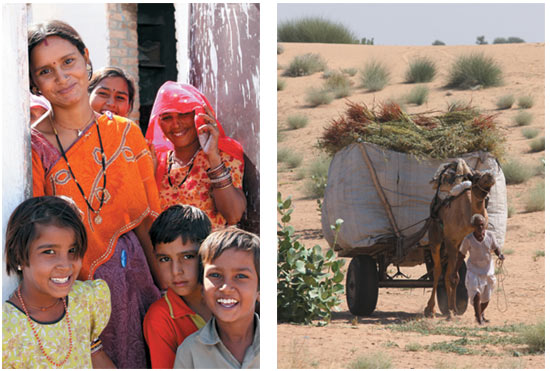 Keechan


Village Kheechan, near Jodhpur, is a natural sanctuary for the bird called Demoiselle cranes.
Location


Dt. Jodhpur.140 km NW of Jodhpur , 5km from Phalodi. Jodhpur- Phlodi ( NH 15)aDistance Chart: Jodhpur (140km) aJaisalmer (165km), Bikaner (150km).
How to reach


By air: The Jodhpur Airport is 5 km away from the city center it has daily flights to Delhi, Mumbai, Udaipur and Jaipur, Jaisalmer.
By rail: Phalodi (7km), which is on the broadgauge railway line that connects Jaisalmer and Jodhpur.
By road: Keechan/Phalodi is about 140 km from Jodhpur. There are regular buses crisscrossing through this area during the daytime.
Contact


STD code: 0291
Jodhpur Airport Ph: 2512617.
Best Season


Oct-Mar.
Stay

stay at Jodhpur.
Sights around


Jodhpur, Mehrangarh Fort, Umaid Bhawan Palace Museum.
Text: TJ Sreejith
Photos: B Muralikrishnan
Translation: Balachandran P