A tiny city affair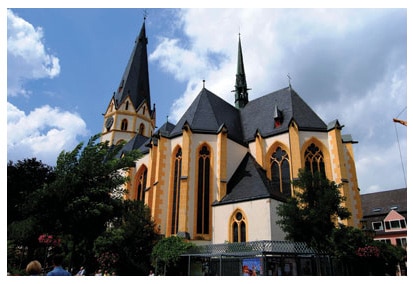 I visited this place at the peak summer heat. There was only a stationmaster in that lonely station: an old railway station where wild yellow flowers bloomed! Far away, on the slopes of the hills, you can see stretches of sprouted vineyards. Close to that, the blue sky from where you can see clouds coming down occasionally. The city is Bad Neuenahr Ahrweiler where the famous wine valley Ahr Valley is located.
Getting out of the station and roaming around for a few minutes, I walked towards the board in which 'City Centre' is written. City information and maps are available from the city centre. After walking a few steps there is a small church. Small means really a tiny one. You can say, a small model of a big church. The church couldn't accommodate more than fifteen people. Lighting a candle I sat in the empty church for a while. Even though I didn't feel the atmosphere of a church there, I felt as if I have visited some neighbour's house. The Ellig chapel constructed in 1850 was destroyed completely in the bombing during the year 1944. The 'tiny church' was built in that place. I got out of the church. It seems that the city is far away. But for an enquiry I saw nobody except some huge buildings.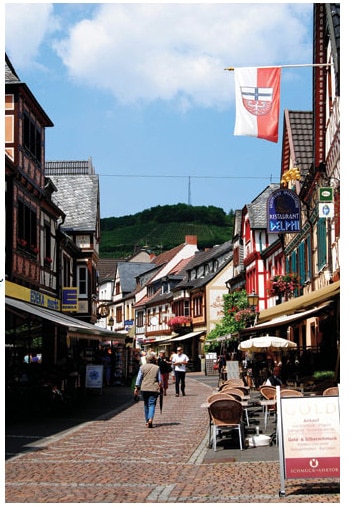 So I started returning to the city centre. As I walked towards it and after awhile an entrance could be seen, a rampart built in stones. Like a guest invited by somebody but reached late, I walked briskly towards the rampart with an anxiety to know what is inside. Entering inside I found a wonder world. Children clad in coloured dresses running around, people from various countries with different faces. Ladies dressed in old style strolling around the perfume shops. There were also shops from where you can buy rare oils, honey, garments and bags in various colours. Young and middle aged people sitting in rows laughing loudly and having food and juices. It was a jolly atmosphere altogether.
It is the Lilliputian city, favorite of the Europeans who make the summer the season of celebrations. During holidays the men, women and children clad in the dresses of middle age reaching there will take our eyes to the past. It made me think that we should also have such celebrations in our country too. Like walking on the road wearing the dresses of 'Unniyarcha'.
These people love their past in the same spirit as they preserve their ancient buildings. Walking through the crowd for a while, a church and the tourist information centre could be seen. I started walking with the tourist map I got from there.
While walking through the crowd, you can hear mild tone of violin from some corner of the city. Or tune of a bugle. Some times you would not be able to trace out the player of those sounds, some times you may be meeting an old man with a beard, wearing a dress with different type of droppings, in a lonely corner of the city.
I never thought of disgracing their music by throwing coins to the violin case, bugle cover or their old hat. But, at the same time, returning without giving anything is more depressing. But I was unable to prevent me from running after the music sounds. Walking between the buildings, hearing their music, I entered in to another world. From one world to an entirely different one. Some clamours lifted me from that world. A gang of men like beetles, wearing black jackets and belts, carrying helmets in their hands I was about to get jammed between them. Fat men and women. And motorcycle gangs ending their bike ride in the city.
No cars are allowed inside the city, which is surrounded by high castle walls. This may be because the gleaming cars may disgrace the pristine beauty of the old buildings There are clean canals on the sides of stone paved alleys and the main path. You can see ducks swimming in those canals. I just engaged for a while watching the mother duck teaching her children to swim.
A grandpa standing near me holding the railing of the canal also said 'shon na' (not bad). The grandma with him laughed, looking through her cooling glass. I replied in German using the maximum words I know 'yaah, sehar shon. ish libe das' (too beautiful, I love it) then a little chit chat. Since I was sure that if I stand there for a while my German would become English, I just escaped from there.
You can see beautifully decorated windows on all buildings. Each building has a different colour and you can see flowers in pots matching to those colours, fixed on the windows. Most of the buildings are built on timber frames (Fachwerkhaeuser). They were very old. You can see such houses in villages and small cities that survived the war. Some of such buildings might be five hundred years or more old.
Even though this city was ruled time to time by Kelts, Tutans, French and others, the gates, surrounding walls and the towers are still preserved in the same beauty of the thirteenth centaury. Definitely it is a wonder. A place where people of different ages lived. Some times it seems that you can hear feeble sounds of that age. Some times your mind will be diverted by the sounds of horses, or you may see beautiful young ladies wearing long dresses with decorations vending wine from big barrels.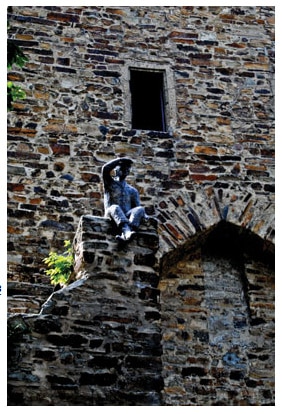 Here, most of the buildings are now restaurants. The age of those buildings are written on the doorframes. There are places for trekking and cycle riding near the Lilliputian city. The famous Bad Nunar named Spa Town is very close to the city.
While returning, the vineyards on the hills far away were being dried by the mild sunlight. The main attraction was the birds flying around above the vineyards. Flying in a particular direction they will land on vines. Then again they will fly in their own way. Taking photos from a distance, I entered the red regional train, which slowly came to the station with out any 'chuck chuck' sound or any expression of a train. The Lillyput city, still having a stock of tales to tell us, came to my inner mind through memories. I sat there quietly.
Bad Neuenahr Ahrweiler


Bad Neuenahr-Ahrwieler is a town in West Germany situated in the Rhein area, renowned for spas and casinos. It is the place where the 'Apollinaris' mineral water company, founded in 1852, is located. As the name suggests, it is made up of two towns: the spa town of Bad Neuenahr, and the picturesque old town of Ahrweiler. Both are good tourist- towns in the red-wine producing Ahr Valley. The towns are small enough to see on foot, and it's a pleasant 40-minute walk along the river from the centre of one to the other.


How to Reach


The town is accessible by a local stopping service train (Regional Bahn), which runs along the Ahr Valley, connecting it, with Bonnand Remagen. There are three stations, depending on which bit you want to visit: Bad Neuenahr in Bad Neuenahr, and Ahrweiler & Ahrweiler-Markt in Ahrweiler.

From Bonn railway station, it takes maximum 45 minutes via Remagen (for more information on train timings: www.bahn.de)

By car: You can reach via A61 highway and the journey time from Koln and Koblenz is 30minutes.

By air: Nearest airport: Koln/Bonn : www.koelnbonn.de


What to see


The 'Beethoven House' (Beethovenhaus) where Beethoven used to stay for summer holidays Walk in the hills among the vineyards; try a section of the Red Wine Walking Route (Rotweinwanderweg) Relax in the heated pools of the thermal baths n Explore Ahrweiler's medieval streets.


Stay


Bad Neuenahr-Ahrweiler has a campsite near the old town of Ahrweiler on the opposite side of the Ahr river from the town's southern gate. Phone: 02641-26539.


Text and photos: Hema Hemambika
Translation: Balachandran