Trekking from Munnar to Kodai
With clouds for companions, hit the inter-state Sholai trail from Top station to Kodai


There are several routes to Kodaikkanal from Munnar for trekking. The most scenic route is through Top station, Koviloor, Bandaravu Mala, Kilavara (32 km). It's an adventures route, for about 18 kms through thick forests.
Top station, 34 km from Munnar town is the highest point in the old Munnar-Kodai route (1700m to 2300 m above sea level)
The top station situates near the Pampadum Shola national park in Kerala-Tamil Nadu border. It is the foreign tourists who mostly opt for trekking though the 32 km forest route from Top station to Kodaikkanal. When someone inquires about the trekking information, guide Manoharan use to say 'only for adventurous people'. Those who love adventures should at least once opt for the trekking here. If you are fortunate enough, wild animals including bison, elephants and even leopards may say 'hello' to you.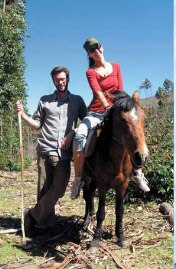 The early morning journey begins from Top station and from there to Koviloor village in jeep. It's a picturesque village in Kerala-Tamilnadu border. It's not a tourist hub as majority of the tourists return after making a visit of Munnar. The village is famous for its carrot and cabbage plantation, a real vegetable village. From there Kolukkumala tea plantations can be seen. Here the tourists will get the service of horses to carry the luggage while trekking.
From Koviloor village, we began our trekking to Bandharavu hill. It's a steep up hill. Only jeeps and horses will show the courage to travel. On the other side of the path situates Vattavada village.
Our journey was through the forest famous for ganja plantations. Now instead of ganja, carrot is being farmed here. Trekking became harder with the time pass by. We saw footmarks of bison and leopards. Then we suddenly saw a pond in the middle of pine trees and numerous bison were standing in the shores that were drinking water from the pond. When we reached on top of the hills, we began to get glimpses of Kodai villages.
The rest of the path was filled with cinnamon trees and eucalyptus trees. Finally we reached Kilavara village. When we were alighting from forest, some students from Cochin University were having their adventurous journey on bikes. After covering Poondi , Mannavannur and Poompari, it was already night when we boarded our bus to Kodaikkanal.
Trekking route


Top station-Koviloor- Bandaravu Mala- Kilavara (32 km)


How to reach


By air: Madurai (140km), Kochi (190km)

By rail: Theni (60km,), Changancherry (93km)

By road: Kochi to Munnar (145 km, NH 49). There is regular bus service from Ernakulam KSRTC bus stand to Munnar. (Fare Rs 75.)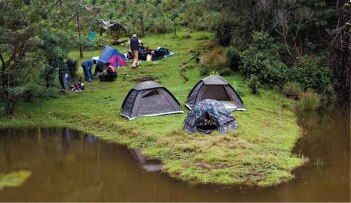 From Munnar to Top Station, 34 kms (SH 44)

Since regular buses from Munnar are rare (fare Rs 25), it would be better to hire a jeep, which will costs from Rs 450 to 550.

From Kilavara, pick local vans to Kavunji village. There are bus services to Kodaikanal from Kavunji via Mannavannur, Poomparai (45km).

Kodaikanal is well connected by road to Madhurai, Palani, Kodaikanal road, Theni, Dindigul, Kumili, Coimbatore, Chenni and Kanyakumari.


Distance chart


Munnar- Top Station (34 km).
Top Station-Koviloor (10 km)
Koviloor-Kilavara ( 30 km)
Kilavara-Kodaikanal (45 km)
Kodaikanal-Palani (65 km)


Stay


At top station:

STD Code: 04865
Mano's home stay: Rs 500 including trekking. Ph: 240056. 09442783853.
Periyar residency: Rs 850- 3000.Ph:214195.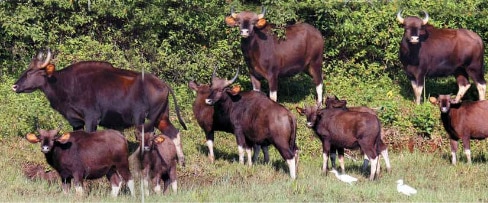 At Kodaikanal:

STD code:04542
Carlton hotel: Rs 8000- 13,000.Ph:2400556
Hotel Astoria:Rs 700-1000Ph:240524
Hotel Palace: Rs 600 to 1000.Ph:240411.
Hamedia lodge: Rs 400 to 700. Ph: 240108.
Grand palace: Rs 1600 to 2400.Ph:243388.
Hotel Sivapriya: Rs 1400 to 2000. Ph:241226.
Kaleeshwari cottages: Rs 500.Ph:241329.
Contact


Manoharan (Guide) 09442783853, 09447578134,
E-mail: info@junglesafaris.in
Munnar wild life warden: 04865-231587.
Kodaikanal DFO: 04542-240287.
Website:www.tamilnadu-tourism.org.
KSRTC Ernakulam enquiry:0484-2372033.



Travel Tips


On the way to Top Station from Munnar, after Yellapetty, couple of kms of road is in bad shape.
There are only two restaurants in Top Station.
Advisable to reach Top station before sunset.


Travel Info


Munnar-Kodai trekking route

Usually two ways are being used for Munnar- Kodai journey. One is Munnar-Marayur-Udumalpettai-Pazhani-Kodai route and another is Munnar-Pooppara-Theni-Kodai route. Both these routes have a distance of 190 to 200 kms. The Munnar-Kodai trekking route, Munnar- Top station- Koviloor- Vattavada- Klavara-Poondi –Kodai is not so famous which is about 75 kms.

Things to be noted while opting trekking:

As the route is bit dangerous, a guide should accompany the traveler.
Use shoes with sufficient grip
Avoid wearing dark colored outfits
Carry camera, binoculars, food, water and glucose.
If there is more luggage, you would get horse for rent of Rs 800 to 1000.
Take sweater, muffler, blanket, sleeping bags, troches, candles, matches, cap, sunscreen lotion, painkillers and first aid kit.
Those who are having high BP, heart disease and muscles problems should not go for trekking.


Text: T J Sreejith
Photos: N A Naseer
Translation: Shamila KY