Rhythm, the rhythm of the oar
×
Even though born and brought up in London, Deepesh Patel is a Gujarati. He never forgot his mother tongue. In the month of Kumbha of Malayalam era, he has come all the way from the frozen London to enjoy the warmth of Kerala. A kayaking in the River Pamba, and bird watching in Thattekkad bird sanctuary. Then back to London via Kochi and Bombay. A relaxation between the busy IT job. That was his aim.
Akkarakalam Memoires in Chennakari, Alappuzha, is a 150 years old 'Kuttanadan' house. He selected this resort for stay. Being a voracious reader, he knew about Kuttanad from a book, which brought him here. The facilities for kayaking was arranged by Calypso Adventures of Kochi. Even at 10 AM in the morning, the sunlight was hot. We did not feel it because of the wind from the backwaters. Getting in to the kayak he started rowing towards Nedumudi. Nynesh, Praveen and Hari, the kayaking stars of Calypso, accompanied him. We also followed them.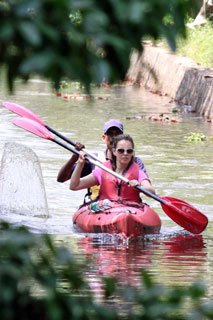 On the way when we reached near the 'Isle Heaven' resort, there was a foreign family on the shore. When he saw them waving hands, Deepesh parked the kayak near them. Hans with his wife Reyan Nop from Holand along with their children Pello and India are here to see Kerala. There is an Indian connection behind the name of the younger daughter. 'I am a half Indian. My father belongs to Himachal Pradesh. I have never seen him. Only I know him through my mother. My mother was in Himachal Pradesh for a long time. My paternal relationship to India is behind the name'. She told us.
When she saw the kayak, she wanted to row it. Holland is the Kuttanad of Europe. They are very familiar with water and ore. When she got in to the kayak, Hans commented from the shore 'Now you look like a Bollywood Star, darling' Reyan started rowing like an experienced kayaking star along with Praveen.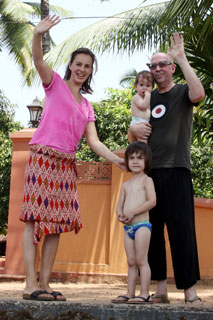 Coming back to the river after roaming through the small streams in Nedumudi, Hari just tilted the kayak. It went upside down. Since they were wearing life jackets they floated in the water. But it took some real efforts to bring the kayak to position. Nynesh also helped them. The journey started again after removing the water in the kayak. Reyan was very much thankful for giving her such a jovial experience.
But Deepesh's journey never ends here. He is planning to spend one more day in Kuttanad. Then in the Thattekkad Bird Sanctuary. Kayaking is the best way to watch the backwater birds. You can row without making any sound. You can take the photos of the birds. It is the exact reason why he spend his Indian vacation here for kayaking and bird watching.
Text: G Jyothilal
Photos: B Muralikrishnan
Translation: Balachandran P