Himalayan Embrace
Vacation Spot/ Trekking

Nestling in fluffy clouds and carpeted by snow, the valley cradles Kibber, highest habitation in Asia, the Buddhist faith and a temple dedicated to Hidimbadevi, wife to Bhim


Spithi and Lahual valleys, known as Himalayam Tibet, the valleys which would be cut off from the main state for almost up to eight months of the year due to heavy snow.. One will reach Spithi after covering the Rohtang Pass, which is at a height of 13,123 and Kunzum la, or the Kunzum Pass at an altitude of 14, 800 feet. Those who are young, adventurous and are young at heart only opt the journey to Spithi. Spithi is awaiting you, opening her abode to embrace you in warmth and buoyancy.

The entrance is only for a restricted period in each year, the Rohthag pass will be opened for traffic only during May to October and Kunzum Pass from July to October.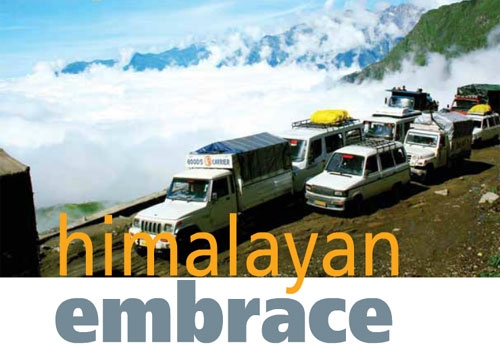 Kibber, the highest village of the world, is located at an altitude of 4200 .It contains a monastery and the Kibber Wildlife Sanctuary. It's a place where there leave some peace loving people who follow Buddhism.
We were a team of seven Suresh, Anil, Sumith, Boysy, Raghavan, Padmakumar and myself boarded the flight from Delhi. We already made arrangements for the travel from Delhi to Manali and for return journey. We began the journey thinking that we will arrange a vehicle to Kibber from Manali from there. When we reached Manali, it was the apple-harvesting season. There were hundreds of apples hanging from every tree branches and tones of apples in the markets. We stayed at the hotel Rohthan
Inn in the Manali city centre. The taxi stand and bus stands were close to it. We arranged a Quails for Rs 10,000 to go to Kibber. During after noon we began our journey and went to Hidimbadevi temple.
The nature's park is on its way and cedar trees and pine trees and beautiful river flowing peacefully beside the road decorated the ways. When we entered the temple, more than spirituality, the mind fills the beauty of the nature here. The four-storied temple situates surrounded by a cave enshrined with the footprints of Hidimbadevi. The idols are inside the cave.
It was four years back in December, I first saw this temple. The temple was covered in snow then and it surroundings gave a breathtaking view. We began the journey to Kibber the next day after 6 am. We reached Gulaba covering 25 km length. I was in wonder as last time when we came here the place resembled a snow bundle and now it looks all green. We halted at Marhi for breakfast at 7 am. The height here is 11,500 feet. The sky was clear with clouds floating around. The path we covered reminded a python. The more we enjoyed the beauty of Himalayas, the more our mind craved for it. We continued our journey after eating tasteful Poori,
Potato curry and tea. Half an hour passed and we found our self in the middle of a traffic jam. There were works going on to widen the road to Rohthang pass. The vehicles were having tough time as the road was filled with mud and water due to the rain last night. At that moment white clouds and us seemed to be in same level. They were standing close to us and we were unable to see anything underneath the road. I found such an scène only during flight journey. When we reached the pass, it
was covered with mist and once we covered it, we saw sunlight.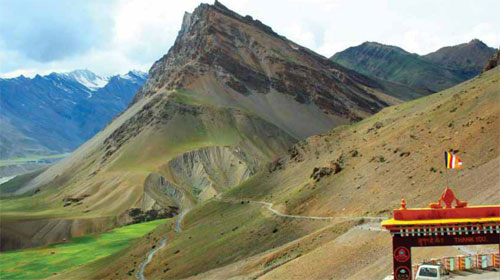 We captured the enthralling beauty of Himalayas in camera and vediocam. Now its descending phase in that zigzag road. There were long queue of lorries going to Leh carrying petrol, diesel and other goods. We turned right from Gramphu and lorries to the left. Majority of the vehicles, which were with us diverted to Leh side. There were huge mountains in our left side of road with stream flowing from them. We proceeded through the road in the right side.
There were small streams emanating from glaciers. After an hour-long journey we crossed Chandra River. There were some makeshift hotels near the bridge. This place is called Chathru. There was a board indicating that 120 people live in this village. Some foreigners were taking rest in tents near the hotels. They came for trekking. We continued the journey after the lunch.
Huge mountains stood in the two sides of the road with Chandra River meandering through right side of the mountain. It was a completely isolated place. We again crossed the river and from there we began to ascend to reach Kunzun Pass, which is at a height of 14,800 feet. There was a Buddhist temple and the vehicle circled the temple, as it's a ritual here. We continued the journey after visiting the temple.
We spotted a number of houses in far-flung area. Time was 6 pm and when we were near the place we understood that it's a small town. This is Losar, which comprises of one or two shops, hotels, government rest house, some houses and one farmland. We had a refreshed feeling after having a tea. When we continued our journey it was dawn. We reached Kaza by 9 pm.
If there were no traffic jam we would have reached by 6 pm. Our hotel room looked clean and vast with floor mats, beautiful bed sheets, rajai and a neat bathroom. There was slight drizzle during the morning. Rain is a rare phenomenon here. We went to the terrace of the hotel and had a very good view of the surroundings. There were mountains on the front and backsides of the hotel. The Spiti River was gently flowing between the mountains, forming tributaries that looked so artistic, and white
sand gathered around it looked like snow.
. There were Budha Monastery and Hanuman Temple in the mountain, which was in the back aside. There were a number of houses and buildings near the hotel. The buildings with green roof indicated government offices. There was a petrol pump of Indian Oil Corporation neat the Buddha monastery at 3740 feet high, which is the petrol pump situated in highest altitude in the world. We stepped into the Hanuman temple, which was above the pump. One could have a good view entire Kaza town
from there, which stands in six or seven km length. One small stream separates old and new Kaza.
Kibber is the highest village with a motorable road in Spiti and we reached near to that. Kibber it seemed to be a peaceful and subdued place. It was blessed with a magnificent view of the valley; surrounded by snow-covered peaks, green peace fields. One would wish to float in that beauty.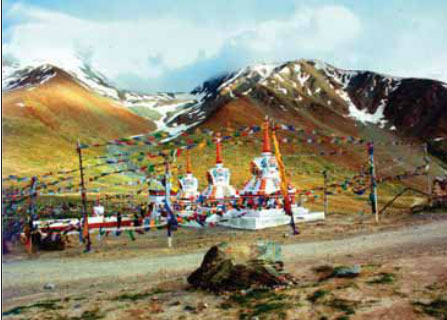 We reached Kibber and ordered for lunch and there are one or two hotels and accommodation facilities. All inmates in hotels are foreigners. The water emanating from glaciers were flowing through one side of the village. The place is at height of 15,500 feet and Oxygen content is less here, so we walked slowly. There were identical homes made of mud. In new homes they are using cement and rocks.
Above each rooftop they will keep dried wooden branches in one-meter height so as to avoid the walls getting drenched during snowfall. Rain is rare here. The ground floor of the house is being used for keeping agricultural equipments, seeds and animals.
The kitchen and bedrooms are in the first floor. The floor is also made of mud. There were green peace and barley plantations in one side of the village.
After our lunch we headed towards the Ki Monastery, which was built in 16 th century. There are abundance of Buddhist statues and pictures. Three Buddhist monks were chanting manthra in the middle of the temple.
A person was selling various kinds of jeweleries in the temple gate. I found special item in his hand, a singing bowl. It was small bronze ball with some Tibetan scribbling inside it. You circle this mallet around the outside rim of the bowl, and an enchanting sound begins almost immediately. This tone continues to resonate long after you stop circling with the mallet.
We witnessed cloudburst during our return journey to Kaza, which created havoc in Himalayas. We captured that scene in our mobiles and cameras. Next day morning we started our return journey form Kaza and reached Manali and from there to Kochi via Delhi.
Majority of our co passengers were foreigners and who comes for trekking and fossil collection. Malayalees rarely go there.
Travel Info

Location


Lahaul and Spiti valleys located on the northeastern end of Himachal Pradesh bordering Tibet. Are the ultimate destinations for adventure tourists? Mountains and white snow peaks add Spiti's spell binding beautify. The valley is also famous for its Budhist Monasteries
.

Altitude


2745 meters


How to Reach


By air: Nearest Airport: Kulu , 240 km
By rail: Most convenient rail head is Chandigarh , 500 km

By road: 200 km from Manali, 240 km from Kulu, 500 km form Chandigarah, 741 km from Delhi. You can reach up to Kulu by air and then private taxi or bus. Direct bus form Delhi also available. These buses formally take 12 to 13 hours to reach Manali and from there take taxi or another bus. Total journey is around 1450 kms to and from Delhi. Buses run over the Kumzum La Pass from Manali from July to October. There are buses go Manali (Rs 250-10 hrs) at 4.30 am and 7 am. For Keylong, change

at Gramphu (Rs 102-8 hrs). There is single bus to Ki and Kibber from Kaza.

Distance Chart: Manali 51 km, Rohthang Pass 14 km, Gramphu 17 km, Chhatru, 32 km, batal, 11 km Kunzum pass 19 km, Losar 58 km.


Best seasons


Spithi is cut off from the main state for almost up to eight months of the year due to heavy snow. The best time to visit is between June and mid October. During the rest of the year, frequent landslides and flooding, block the route. The climate is typically that of desert, hot in the day and cold in nights with chilly winds.


Sights Around


Spithi is famous for its monasteries. The whole place has Tibetan atmosphere, which is different from the predominantly Hindu valley of Kulu. The terrain is more beautiful with overwhelming snow peaks and an enchanting lake. The activity in the region is walking and driving around.


Must see


Ki monastery, the Thangka paintings school founded by Dalai Lama, Trek top Kanamo peak its 2 day trek from Kibber, trek to Parang La and one of the higher passes which offer the best views of the Himalayan ranges, visit to the national park.


Stay


Accommodation is very limited at Losar, Kaza and Tabo. Village home stays available in the amazing high villages like Dhankar, Langcha, Kibber and Mudh.

Stat in Kaza: Hill view guest house: HPTDC/tourist lodge: ph: 1906-222566.

Snow line hotel and Little Italy restaurant: ph: 1906-222257.

Stay in Kibber

Norling Guest house: ph: 1906-226242.


Tips


Avoid the region between November to May, because everything is close down at the time and you might find yourself unable to get out pf Spithi until Rohthang opens up again.

If traveling by own vehicle from Manali, get it serviced before the departure. An experienced driver in this terrain is a must.

Carry enough warm clothing; sleeping bags ad dray rations so that in emergency survival is easier. As the trip involves attitude in excess 14, 000ft precautions about how oxygen and dizziness should be taken.

Kaza is the starting point to Spithi trekking. It is the district capital and major transport hub near to Spiti. In August, villagers' from across Spiti descend to Kaza if the Ladarcah fair. The original village, which was washed away in cloudburst, is separated from the New Kaza by stream. To travel beyond Tabo, inner line permits is needed. At least one night stay is required to arrange this. Kaza is the starting point for trips to Ki Gompa and Kibber and treks into the mountains. Bus and jeep stand is below the bazaar in the old village.


Text and Photos: Sajeev Kumar
Translation: Shamila KY