Above the sky, up the hill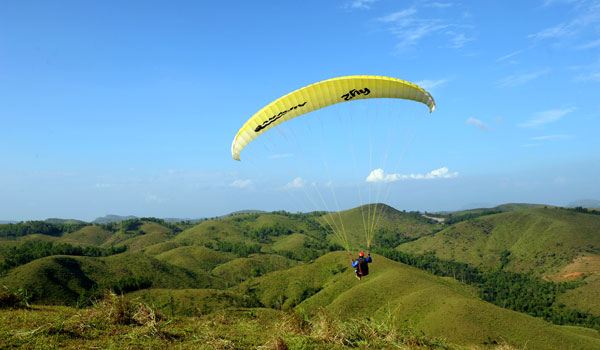 Travelling through Vagaman, one would surely utter: 'Savari giri giri, giri giri ('giri' means hill); true!: everywhere are hill ranges - in between meadows, Swiss model cottages standing head high, like disappointed unmarried girls and so on. Eventually I reached Vagaman like an 'Ulagam sutrum valiban' (a globe trotting youngster) (please do not misunderstand)

'G spot!' hearing it at first, we got curious; then it became a thrill: a thrill to go for a paragliding. The guys who conduct paragliding named this spot as 'G Spot' an acronym for 'Giding Spot'.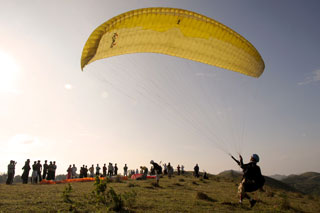 Each paraglide costs about one and a half lakh rupees. To fly in this glider, you need not only money, but the wind also should bless you!

The hill ranges of Vagaman is the most suitable place for gliding in Kerala because even if you crash land after flying high, you would be landing only on meadows. Naturally the accidents would be very less. Paragliding is not as easy as we heard. On starting to fly, I too realised that. I started waiting for the wind to blow in the right speed to fly.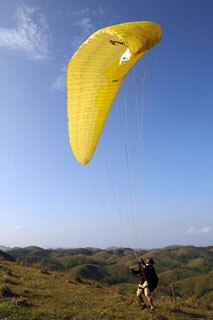 Only untill the belts of the well-geared Para glider at the edge of the hill is tied up tightly on your body, you could afford to have some fear. But once having decided to fly, when the belts are tied up, you should not fear any more. Then onwards, the wind is the star: looking up at the sky, we would have to wait till a steady wind at a medium speed starts blowing and heralds us.

While waiting for the wind with the Para gliders on your side, the tourists coming around to see Vagaman would comment, 'Hey! the guys do not seem to know flying! simply bluffing, all are afraid!' Not being able to bear such comments of inborn scorn of an average Malayali any more, Pilot John readied to fly somehow. The speed of the wind was 15 km / hour. The wind is blowing steadily, without much fluctuation. John is ready for a perfect take off.

We do not fly along with the wind, but should glide against the wind from the opposite direction. So John started flying in a red glider. Like a colorful bird, John's blue jacket is flying over the meadows of Vagaman. Thus John became a star, more appealing than John Abraham, to many girls looking up at him. But, to see my flying, there was only one German family.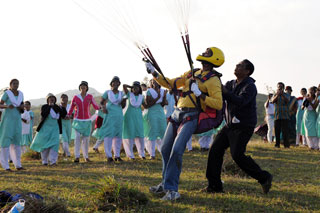 Talking to John and Saleem about the girls appreciating them, they told that nowadays the girls are more interested in adventure sports than boys.

Saleem told us the incident of a husband backing out on the excuse of having BP (blood pressure), after approaching him for paragliding despite the wife being ready to fly. Husbands have BP… Is that Blood Pressure or 'Bhaarye Paedi' (fear of wife) Mmm, anyhow the life with a wife is an adventurous journey! anybody might have a little fear.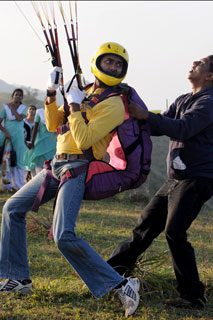 Flying on the paraglider we eventually reached the Suicide Point. There are restrictions for vehicles here. Because of this itself, walking up to that point, the people would drop their plan to suicide on reaching there. Reaching this point, anybody might be tempted to fly down; but if anybody flies off from there in a paraglider, he should be a tiger of pilot. If anybody is afraid of paragliding alone, he needs not to be disappointed; he can fly as a co-passenger with a trained tandem pilot.

But nowadays such a tandem pilot to fly with a co-passenger is very rare in Kerala; that is what Anil of Aasta Flying Club opines. At last, the wait and effort to fly on the winds from the bare hill tops of Vagaman succeeded. If asked 'how was the experience of flying down', the answer in a single sentence is 'felt like floating down lying in a cradle.'

In Vagaman, the end of a day is a very energetic one. The sound coming to your ears breaking the silence of the night is not from crickets; but that of the wind, coming patting the pine trees, as the amplified Digital - Dolby – Surround sound. Sleeping on the lap of the breeze, we felt lazy to wake up in the morning.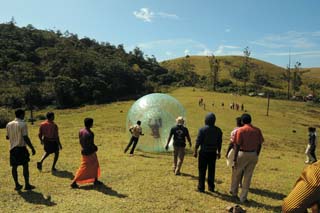 But the adventure activities as part of the Vagaman Fest allayed my laziness. Besides Paragliding, there are Parasailing, Hot Air Balloon and Sorbing, each better than another. The game of Sorbing of rolling you put in a ball may seem and look simple. But when put in a ball and started to roll it, we would start praying to all the Gods. It was the moment when I felt respect even to the wind again. Put in a ball and rolled for a second, you suffer so much; then what might be the condition of the wind in a foot ball! Hey wind! let your 'breath' last for ever.

One should never forget one matter during the journey to Vagaman: The nearest town to Vagaman is Elappara, just 16 km away. So it would be better to buy all the essentials on the way to Vagaman itself. Just because I forgot this, I had to drive twice to Elappara. Again because of that itself, Elappara smiled at me on my return trip. As my mind was filled with Vagaman, I could not return that smile.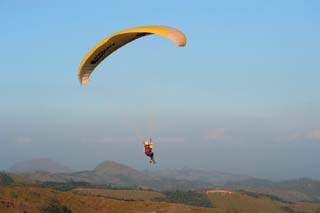 At dusk, as we vacated the room, I yearned to forget something there; that might have been out of a desire to come back to Vagaman. As we started out, a pure white car came and stopped in front of us. From that car a young couple emerged, hands in hand; as they disappeared amongst the pine trees behind the resort I closed my eyes. Sweet songs of my close friend reverberated from the car stereo.

I decided in my mind; after years I would also come in a white car to the shades of the same pine trees with another person at hand beside me. I would fly with her to the romantic meadows of Vagaman. This was what I dreamt in the car during our return trip. It is true: dreams spur man on to live. It is from dream journeys like this that sweet dreams emerge.


Text: Veeru
Photos: Madhuraj
Translation: Balachandran P