Of small appam and Kottarakkara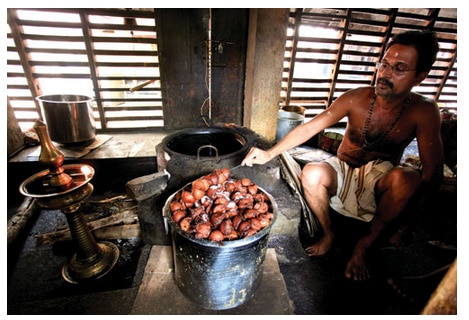 Kottarakkara Unniyappam (small appam) is as famous as Ambalapuzha Palpayasam. If you start eating one, you feel like having more. Cooked in special taste the unniyappam comes with sprinkled sugar on it. The grace of Lord Ganapathi makes unniyappam as double sweet to the believers.
It is said that unniyappam was the first offering given to the Ganapati temple which was installed by Peruthachan. It is believed that the custom is till continuing. Unniyappam is an unavoidable dish in special occasions celebrated in the houses in Kottarakkara.
In old days when the unniyappam is cooked, you can smell its delicious flavour kilometers away. On those days unniyappam was cooked adding equal quantities of 'Paniyan sarkkara' (jaggery), coconut oil and ghee, which were specially prepared in Thiruvalla. But nowadays, even though the taste of unniyappam has reduced due to low quality jaggery, the fame has increased.
They are willing to disclose the ingredients, but quantity is a secret. The ingredients are rice powder, molasses, dry ginger powder, cardmum powder, palayankodan banana, coconut and ghee. It is cooked in coconut oil. Finally sugar is sprinkled on it. 288 unniyappams are cooked at a time in eight Karas having 36 cavities (frying pan with multiple cavities). A packet of ten costs Rs.15/-. You will get unniyappam from 6:30 AM to 11:15 AM and5:05 PM to 7:45 PM.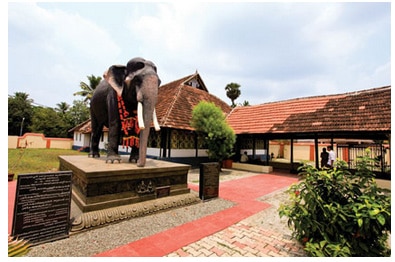 There will be Udyastamana Pooja on Monday, Wednesday and sometimes on Thursdays also. This will fulfill your wishes. This is a ritual in which unniyappam is offered from sun rise to sun set. There is a myth behind this.
The King of Kottarakkara who was sad because of not having children, offered to cover Unniganapati with unniyappam, if he is blessed with a son. When the son was born, how many ever unniyappams were cooked, were not at all sufficient for covering him. The King who was in deep sorrow prayed with his weeping mind to the Lord Ganapati that he will give unniyappam as offerings from sun rise to sun set.
Udayastmana Pooja started from then onwards. Unniyappam is given to only those believers who offer adoration on these days. The charges for Udyastamana Pooja are Rs.40000. All the Udayastamana Poojas have been booked till 2026.
By travelling 72 kilometers from Thiruvananthapuram you can reach Kottarakkara. You will get K.S.R.T.C. buses. It is 72 km from Kollam. The nearest railway station is Kottarakkara railway station in Kollam Chenkotta rail route which is half a kilometer from it.
Kottarakkara temple is a Siva temple. But the sub diety Lord Ganapathi is more famous. During the construction of Patinhattikkara Siva temple, every day they used to worship Lord Vigneswera and conduct a ritual named Ganapatikothu on the nearby Panuvin wood. By the time the work of the temple was completed this Panuvin wood became a beautiful statue of Ganapathi. Even though Perumtachan wished to install the statue in the same place, the authority did not agree.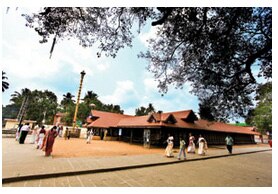 Then he went to the temple in Kizhakkekkara and presented his wish to the authority of that place. He agreed. That is the statue that exists as the Kotarakkara Ganapaty, giving prosperity to that place and showering blessings on the beleivers even today, which was installed facing south in a sanctuary by Perumtachan himself. The festival starts in front of Lord Siva. The main festival is on 'Sivarati' (The night of Lord Siva) in the month of Kumbha in Malayalam era. Other special occasions are Vinayakachaturthi, Aayillyam-Makam, Sivaratri, Prathishtadinam (Installation day), Thaipuyam, Vishu and Medathiruvatira.
Kottarakkara is the birth place of Kathakali. The originator of this art is Kottarakkara Thampan. There is museum in his memory in which the history of Kathakali and it's dresses, decorations and ornaments are displayed. Kottarakkara Thampuran Memorial Museum of Classical Arts. This is very close to Kottarakkara temple. The statue of Navarasas (Nine expressions) of kathakali is also a main attraction of this museum.
Travel Info

One of the most important Ganapthi Temple of Kerala.


How to reach

By Road:
Nearest Bus Station Kottarakkara-01 Km.Kollam-27 Km Thiruvananthapuram-72 Km Kottayam-81 km
Bus Timings
From Kottarakkara Temple Kattappana koottar-5 am Kumily-5.45, 6.00 Chakkulathukavu-6.45Guruvayoor-7.15Thenkassi-8.45
Kattappana Nedumkandam-8.50
Punnala-9.00Mookambika-7.40.
Pamba-7.30 (Mandalakalam only
By Rail:
Kottarakkara-01 Km Kollam - 28 Km Thiruvananthapuram-70 Km
By Air:Thiruvananthapuram-70 Km Kochi-191 Km
Nearest Airport:
Thiruvananthapuram (116km)


Stay

At Kottarakkara.


Contact

Temple: 0474-2457200, 2450555 President Divakaran )9400450004.
Police Station-2454629, ci)2454533
Railway station)2454754, sKrtc ) 2452622


Temple Timings

4 am to10.30am, 11-11.30 am, 5pm-8pm.


Sights Around

Jadayupara-25km Maruthimala-25
Kottarakkara Thampuran Memorial Museum of Classical Arts
This museum has on display life size figures of Kathakali, Mohiniyattam, and Bharatantayam characters, in their original costumes. Hasthmudras are also displayed. The museum houses a well equipped library.


Timings

9am-5pm.


Contact

Satheesh Chandran, General secretary,
Kottarakkara Classical Museum )9495431204


Text: G Jyothilal
Translation: Balachandran