Theme parks in and around Kerala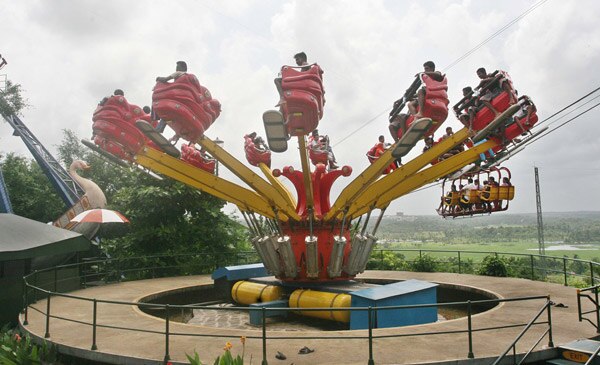 Veegaland



The Vegaland which attracts both children and elders with it's rides and games, is at Pallikkara, a peaceful place away from the crowds of Kochi. There are wonderful things to enjoy including watching a movie while you are sitting on a ride. The enjoyable activities of Vegaland are Cinemagic, Thunderfall, Rapid river, Lacer show, Wavepool, Musical fountain, Twin flipper monster, Spacegun, Skywheel, Hang glider, Family slide and so on. The latest ride of this park is Spinning coaster. The distance from Kochi to this park is 15 km. and from Palarivattam is 11 km.

Ticket charges:
Adult: Rs. 340, Child (90cm to 140 cm): Rs. 255. On holidays ticket charges: Rs. 460 for adults and 345 for child.
Admission time:
10.30am to 6.30pm (on holidays till 7.30pm).


Dream World


The Dream world water theme park is on the way towards Aathirappali water falls. The main attarctions of this park are Wavepool with sea waves, boating in the Lazy river enjoying beautiful and natural views, rides like Mat racer, Space bowl, Dream splash, Crecent coaster, Boomerang, Stormy river, Amazon river, Rain dance, and so on. There is a Kids village also here. The park is located eight kilometers from Chalakkudi in Trichur district.

Ticket charges:
Adult: Rs.300, Child below 4 feet: Rs. 200, special discount for school students.
Admission time :
10.30am to 6 pm.


Silver Storm


The Silver Storm Water Theme Park is located near Aathirappali, Vazhachal water falls and Sholayar forest which are popular tourist centers of Kerala. The rides in this park are Wave pool, Bumping boat, Jurassic splash, Turbo twister and so on. Another specialty of this park is the Chinese village where you can see Chinese characters and alphabet drawn on the walls. The latest item is the dry ride called 'Hooper'. This is like a giant wheel. This park is 19 km from Chalakkudi in Trichur district.

Ticket charges:
Adult: Rs.290, Child (100-137cm): Rs.230, Sr. Citizen (above 60years): Rs.140,
Admission time:
10.30 am to 6.30 pm.


Fantasy Park


This park of illusory world of fun is located near the Malampuzha gardens. The specialties of this park are Super splash, Hara-kiri, Sip sap soop, Striking car, Para trooper, Dragon coaster, Tora-tora, Wave pool, Speed slider, Digital planetarium and Computer games. The distance is 8 km from Palakkad.

Ticket charges:
Adult: Rs. 250, Child below 4 feet: Rs.200.
Admission time:
10am to 6.30pm


Kottakkunnu


This park in Kottakkunnu is the first amusement park built by a corporation in Kerala. There are about twenty five rides in this park. The other activities are Water shoot, Family pool, Giant wheel, Carousel, Free fall, Multyline and various types of pools.

Admission Charges:
Adult: Rs.200, Child (90cm to 140cm): Rs.150, Sr.Citizen: Rs.100.
Admission Time:
11am to 7pm.


Vismaya Infotainment Center


The Vismaya Infotainment Center is a new park started in Kolmotta, Parassinikkadavu. The entertainments in this park are, Musical fountain with lacer show in water screen, Sky train on mono wheels, Dancing floor, huge artificial lake, Crazy ride, Tornado, Mini pendulum, Giant wheel, Water splash and so on.

Ticket Charges:
Adult: Rs. 300, Child (90cm to140cm): Rs. 225, Rs. 375 for adults and Rs. 275 for child on saturdays, sundays and holidays
Admission time:
11 am to 7 pm.


Black Thunder


This is a center of fancy rides, located near the Mettupalayam Ooty main road. The entertainments in Black Thunder are Cannon ball, Volcano, Twister, Wild river, Kids pool, Surf hill, Wave pool, Boomerang, Kids boating, For men water ride, Shotgun slide, Aqua ball and Big splash. The distance is 3 km from Mettupalayam bus stand.

Ticket charges:
Adult: Rs.290, Child (3to12years): Rs.250.
Admission time:
9.30 am to 5.30 pm.


Sadhu Merry Kingdom


The amusement center, Sadhu Kingdom is located at Kadachira in Kannur district. The entertainments are Climbing net, Sight seeing tower, Toy train, Toy car, Bumping dashing cars, Sliding pool, Cyclone, Kids pool, Wave pool, Rain dance and Pool to pool. Distance is 10 km from Kannur city.

Ticket charges:
Adult: Rs. 290, Child (below 120 cm): Rs. 250, On holidays ticket charges: Rs. 330 for adults and 290 for child.
Admission Time:
10.30 am to 6.30 pm.


Baywatch


The Baywatch at Kanyakumari is a world of amazing views including a wax museum which reminds you of the Madame Tussauds museum of London where wax statues of world famous celebrities are displayed. The specialties of Baywatch are Aqua shuttle, Multiple splash, Crazy cruise, Milky way, Anaconda ride,Wave pool, 3 D Theatre, Crazy chair, Flying elephant, Bumping car, Sky walk and Kids pool. The park is one kilometer away from Kanyakumari bus stand in Kovalam road.

Ticket charges:
Adult: Rs.190, Child (90cm to 137cm): Rs.160, Admission time:
9.30 am to 7 pm.


Happyland


The Happyland is located in between the rocks and paddy fields of Pirappankot in Thiruvananthapuram district. The entertainments in this park are 'Pushpak' which shoots up from the bottom to the top, the revolving tower called 'Akash', Water fall named 'Kuttalam', Family pool, Pendulum, Multiline, Crazy cruise, Break dance, Swing chair, Columbus, Kro kro in the kids village, Toy train, Everest and Ball pool. The distance is 23 km from Thiruvananthapuram city.

Ticket Charges:
Adult: Rs. 275, Child (below 4 feet): Rs.150.
Admission time:
10.30 am to 6 pm.