The sea and the poem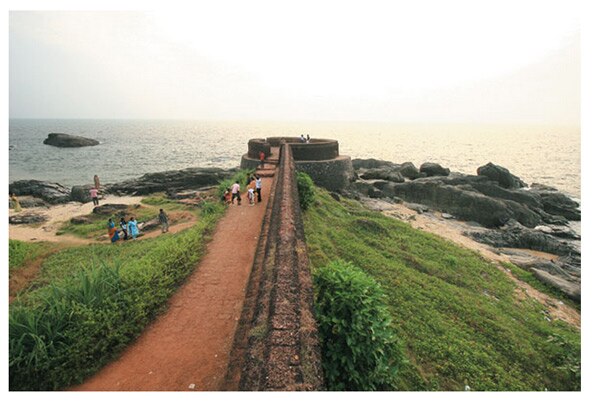 You must see the sunset view of the Bekal fort from Pallikkara sea shore. The fort, receiving the waves, standing alone and looking at the sea with a dreamy sadness is changing itself in the brightness of the dusk. The song 'Vanthu ennodu kalantu videy' will come to their mind, when the lovers close their eyes for a while, standing there. Maniratnam was the man who brought the beauty of the Bekal fort and it's sea shores, which no body cared about, to the outer world. The single song 'Uyire, Uyire…' from the movie Bombay made the Bekal fort famous. In 1992 the government declared Bekal as a special tourism center. In 1995 Bekal Resorts Development Corporatin came in to force. Now B.R.D.C is busy with their projects to prepare Bekel and elevate it to the international tourist map by 2010.
It is said that the Bekal, the biggest fort in Kerala was built by the Sivappa Nayak of Ikkeri Naykkar group in seventeenth centuary. This fort in the shape of a circle is spread over an area of forty acres There is sea on three sides. Tne Mukhyaprana Anjaneya temple is located near the entrance of th fort. The Bakel beach garden is adjacent to the beach on the south side.
The biggest construction inside the fort is the observation tower with a slanding approach. There are ramparts on all sides. When you go down through the steps after entering through the small entrance on the west, you can see a small beach filled with rocks. On the right hand side there is a rampart like a hand extended to the sea. The right atmosphere to enjoy the sunset. But when it is 5:30 PM, the Police and Guards will come and disturb the atmosphere and evacuate the tourists by blowing their whistles. There is a guest house in the fort, but it's condition is very bad. The complete control of the fort is under the Archaeological Department. Since the fort is of historical importance, strict rules are followed in the fort. We may doubt whether it is necessary to keep this much restrictions in a place which should be a tourist center. The Archaeological Department and the B.R.D.C take unanimus decisions in this matter. Any how inside the fort they are busy with gardening and landscaping. When it is completed interior of the fort will be a fullfledged flower garden.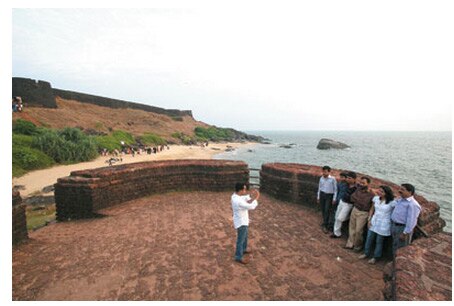 The main attraction of the Bekal and it's surroundings is the clean beach with less population. Small rivers joining the sea occasionally, Small lagoons. Peaceful atmosphere. Many hotels and resorts meeting international standards have come up in Bakel and surroundings. Foreigners have started coming. These huge resorts are constructed in lands which were bought by B.R.D.C. and given to them under lease . The construction of these are planned suitable to keep the environmental and cultural conditions.
The resort owned by The Lalith Soori Group in Uduma panchayath has almost finished construction. The largest spa in Asia is getting ready in this resort surrounded by Nompil river on three sides, spread over an area of 26 acres and constructed at a cost of hundred crores . Here you can avail Ayurvedic treatment, therapy in western and eastern styles, beauty treatments and yoga. There will be 37 cottages in this resort which is built in scandinavian sculpture style. Other than these you can avail five-star cottages, presidential suits or house boats. There is a palm grove on the river side close to this five star hotel which has other attractions like many artificial small lakes, fountains and swimming pool. There is a vast ayurvedic herbal garden also. There are helicopters and a helipad to take the tourists direct to the hotel The Lalith resort has access to the back waters and beyond the back waters to the sea. The owners claim that, when the work is completed this will be one of the most beautiful high end hotels in India. The Taj Ethnic cottages in Kappil, Uduma are also being completed. There are about forty five-star cottages in the size of a 'kettuvallam' in the Taj Village which is facing the sea. The resort owned by Holiday Group is also under progress in Chemmanad. The Nirvana luxuary cottages are owned by the Globe Link Hotels, Jamshedpur. They have also bought an island in the middle of the river for the resort.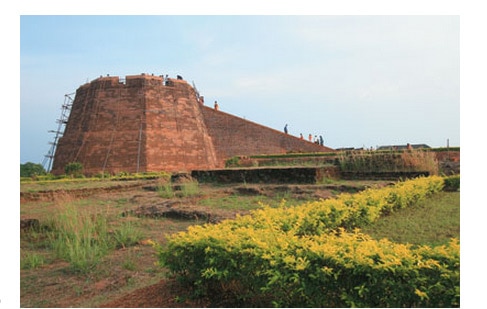 There is big project by Muthoot Group coming up on the sea shores of Neeleswaram. Some russian and german groups have also bought lands for building resorts in this place. The Neeleswar Hermitage, an eco resort near the vast sea shore has become very famous globally. Hermitage has won the credit of being one among the best 101 hotels in the world as per the Tattler Traveller Guide, and one among the best ten eco hotels. There are twelve cottages in this twelve acre Hermitage. Smoking and plastic are prohibited in this resort. You will get only beer and wine in the liquor section. There are no mini bar or T.V. in these cottages which are made of palm leaves and grass. Instead of soft drinks like cola, you will get ethnic drinks. The aim of Hermitage is to give physical comfort to the guests, in a natural way. The other specialities are a swimming pool in the sea level, an ayurvedic massage center, shallow beach and a lagoon. Some home-stays in village style are also coming up around Bakel. The Geethanjal, near Panayal, is one of them.
The M.D of B.R.D.C. claims that if they could develop Bekal as a tourist center according to the plan, that will become one of the most beautiful sea-side tourist centers in South Asia. Mr. Shaji Madhavan said that the whole appearance of Kasargod District will change. The brand of Kerala will come up. B.R.D.C. have arranged many different and attractive tour packages which includes a journey in Valiyaparamba back waters, Ranipuram, Kottancheri, Posadigumpe trekking, pilgrimage trips to Madhur, Ananthapuram Temples and Malik Dinar Mosque.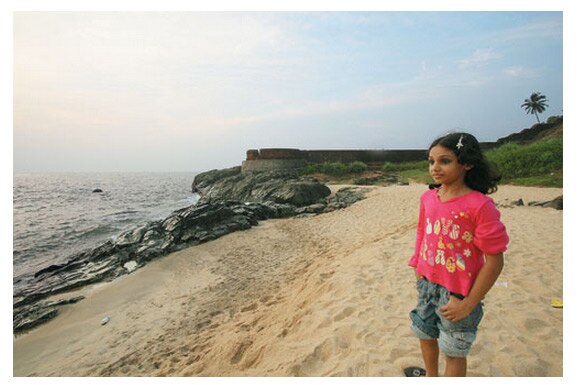 Bekal


Location:

Dt. Kasargod. Pallikkare panchayath

Distance chart:

Kozhikode 155 km south, Mangalore 64 km north, Kasargode 16 km north, Kanhangad 12 km south, Kannur 92 km south, Bangalore 410 km, Kalpetta 230 km, Madikeri 132 km.

How to Reach:

By road: Hardly half kilometer west to Kottakkunnu bus stop near Pallikkare on Kanhangad -Kasargod state highway. Buses and taxis are in plenty from Kanhangad and Kasargod (KSRTC fair Rs 10.50 from Kasargod).
By rail: Though Pallikare, Kottikulam, Uduma stations are nearby, Kasargod and Kanhangad are major rail heads where all major trains halts.
By air: Mangalore Bajpe air-port

Contact:
STD Code: 0467

Bekal Resorts Development Corporation 2272007aThanal Vishrama Kendram, Bekal Fort 2272900. email brdc@sancharnet.in, www.bekal.orgaTourism police 227 2090a KSRTC Kasargod 04994 230677aKasargod Rly. Station 230200.

Stay:

Nirvana Luxury Cottages: Rs. 2900-3680, Ph: 2272007, 09446463088a The Lalith Resort & Spa: Rs. 55000-65000 - Ph: 3203577, 9633300792, 96333300363. www.thelalit.comaNeeleshwar Hermitage: Rs. 12000-15000, Ph: 2287510, 2288876, 2288877,2288878, 9847199600. www.neeleshwarhermitage.comaHome Stay: Geetanjali Heritage Home, C/o Jagannath, Rs. 2500-4000, Ph: 0467 2234159, 9447469747.

Sights Around:

Anandapuram Lake temple, 30 km, Anandashram 15 km, Chandragiri Fort 12 km, Hosdurg Fort 13 km, Jain Temple, Manjeshwar 44 km, Kanwateertha Beach 47 km, Kappil beach 6 km, Malik Dinar Mosque 16 km, Nithyanandashram 13 km, Posadi Gumpe 58 km, Ranipuram hill station 56 km, Valiyaparamba Back water 32 km, Bela Church 37 km, Madhur temple 19 km.

Best season: Oct-May.

Timings: 8.30 am - 5.530 pm

Ticket rates:

Entry: Rs 5, Two/three wheeler Rs 5, Car/Jeep Rs 10, Camera: Rs 10 ( stands are not allowed), Video camera Rs 50 ( video camera only), Bus: Rs 25aFood from out side is not allowed in fortaDo not tamper and do not scribble on the monument a Meeting, reception, party, conference or etertainment will be allowed with prior permission.


Text : R.L. Harilal
Photos : N.M. Pradeep
Translation: Balachandran