Beauty with silver hair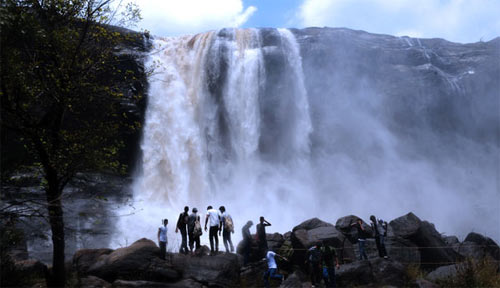 Athrappilly is a place of chilling scenes and memories. As the rain falls, the largest water fall in Kerala, Athrappilly becomes more beautiful.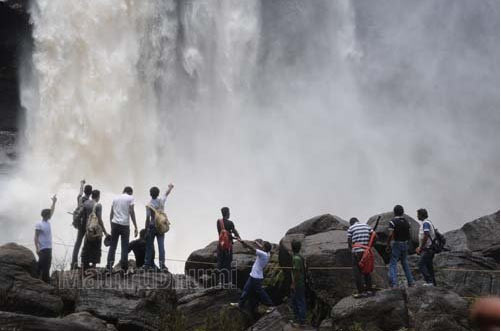 She is like a girl, throwing a mischievious glance to your eyes and never trying to put her saree to it's position and inviting you as an enchanting beauty. Sometimes she looks like a country girl with silver hair parted in to two sides, very shy, standing before her bridegroom. The beauty of Chalakkudi river which you cannot stop enjoying, the Athirappilly water falls.
When we were going to see her, the rain clouds were becoming darker. Since it was morning, there was no crowd. Families with children, honeymoon couples, groups of youngsters and some romantic pairs here and there, like water drops spilt from the water falls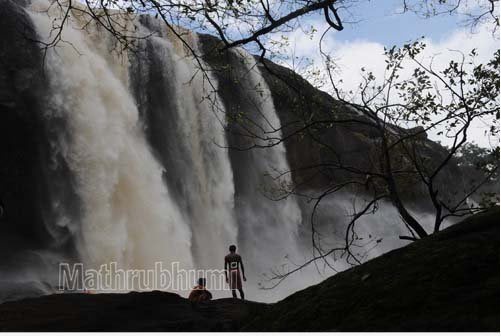 A gang of monkeys received us. It seems that they are more happier than the forest department in the increase of the tourists. They will be getting variety of items to eat! They are running around, wondering, from whom they will get eatables. When they get some peanuts and fruits, they are happy. One of them put his hand in to another monkey's food. Then fight started. For some time the tourists got scared due to the agitated monkies.
The long distance view of the water falls diverted the tourist's attraction from the monkeys. She reaches here after travelling many kilometers from Anamudi through Sholayar forest. When we came here last time, there were no objections for taking a bath or playing around in the river on top of the water falls. But now, bathing there is prohibited. There is no entry beyond the rope which is tied by the forest department. Like a cinema still, there is a palmleaf hut near the water falls. The forest watch men observe the tourists from here. The instant I put my foot on the prohibited area, a whistle was blown. 'Don't go there' – the watchman's warning. The Athirappily which falls to a depth of eighty feet will bring a little fear to your mind.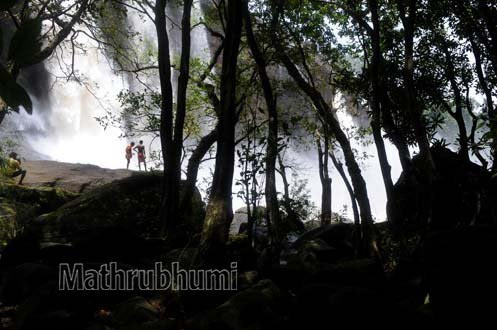 Usually the tourists coming to Athirappilly, return after viewing the sights from the top. To get the beauty of this water falls registered in your mind, you must go to the bottom where the water strikes to the ground. The way to the bottom is a steep path in the middle of the forest. When we reached the bottom through this granite paved path, the arrogance of the drone increased.
The sound of the falls is so high that you cannot even communicate with each other. This area is definetly a dangerous place. There is rope tied just before the place where the water falls. Here there are watchmen from the forest department. On another rock, two men clad in bath towels are catching fish. Want to catch fish from muddy water? Then let us go and see. We climbed on that rock and reached them. They are using fishing hooks to catch fish. The fishes falling along with the water will not go away from the falling place for a long time. While we were talking a fat fish was caught in the hook. Good fish, fit for frying.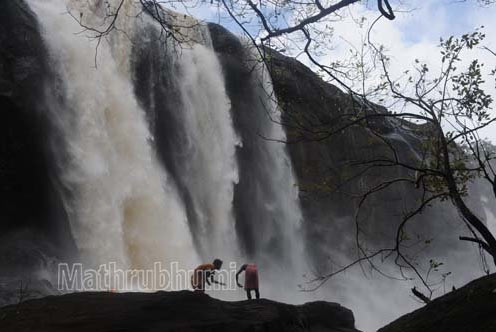 While we were returning a romantic pair is playing 'Titanic' in front of the water fall. When they started moving towards the place where the water falls, the forest guards blocked them. When we kept on standing near the water falls for a while, from the water drops that bounced from the rocks we were all wet like, as if we stood under a heavy rain. We filled our minds with the silver haired beauty. Now we can return. Even though the descending was enjoyable, the ascending is a bit hard.
Travel Info


Athirappilly is one of the biggest and beautiful waterfalls in India.


Location


East of Chalakkudy in Thrissur dt. adjacent to the Sholayar forests.


How to reach


By road:

Deviate from NH 47 on Chalakkudy (Thrissur Dt.) to Chalakkudy-Anamalai road (SH-21). 30 Kms to Athirappilly.

By Rail:

Chalakkudy (30km), Aluva (64km), Ernakulam (101km)

By Air:

Cochin International Airport (48km)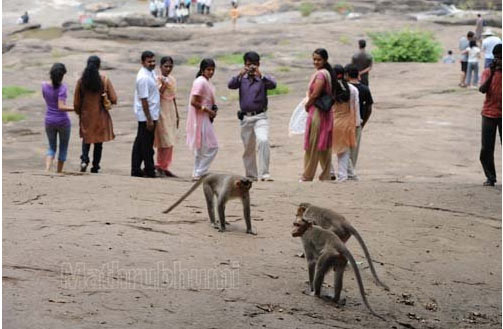 Distance Chart


Thrissur (63 km), Chalakkudy (30 km).


Visiting time


8am to 6pm. Visitors should take tickets to enter the picnic spot.


Ticket timing


8am to 5pm, Entrance fee-Adults:-15, Photography Charge:-10, Parking Fee: Two/Three wheeler--5, Light Vehicle (car/jeep)--10.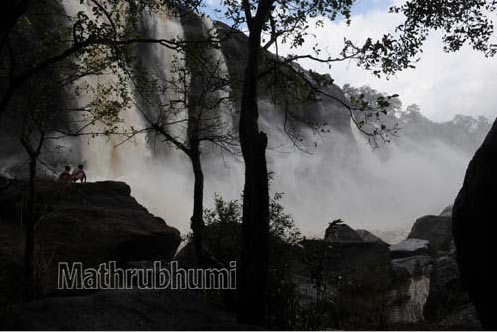 Contact


(STD Code: 0480)
DFO, Chalakkudy:2701340
DFO, Vazhazhal: 2701713
Police Station Vettilappara: 2769004
KSRTC Chalakkudy: 2701638
Railway Station Chalakkudy: 2701368


Stay


Athirappilly:
Rain Forest: Ph: 2769062 (for reservation -Ph: 0484-2315301)
Riverok Villas: Ph: 2769140
Pookodans Pleasant Residency:Ph: 2724012
Hill View Resort: Ph:2769192.

Chalakkudy:
Hotel Amrutha Ph: 2708065
Hotel Anna Ph: 2707921
Hotel Apsara Ph: 2702624.
Poringalkuthu: KSEB IB - Contact: Civil Axe, KSEB, 09497315662.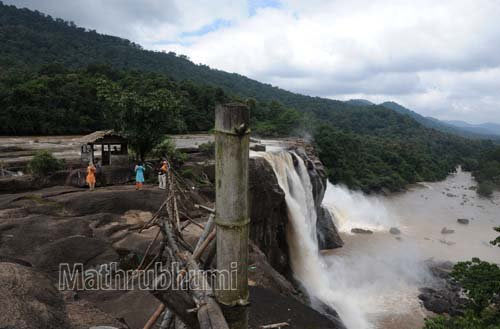 Do's & Dont's


Strictly follow the forest dept. rules and instructions
Plastic prohibited area aUsage of liquor and smoking are strictly prohibited
Don't use explosive iteams in forest
Don't litter the forest and river.


Sights around


Dream World Water Theme Park: near Athirappilly Waterfalls. 8km from Chalakkudy. Entry time: 10.30 am to 6.30pm. Enrty fee:-300 (adults),-150 (Senior Citizen),-200 (children). Ph: 0480-2746935

Silver Storm Water Theme Park: near Athirappilly Waterfalls. 19km from Chalakkudy. Entry time: 10am to 7.30pm. Entry fee:-290 (adults),-230 (children),-140 (senior citizens). Ph: 0480-2769116.

Charpa waterfalls (3km)
Vazhachal waterfalls (5km)
Anakayam
Eco-Tourism Area (23km)
Sholayar Dam (43km)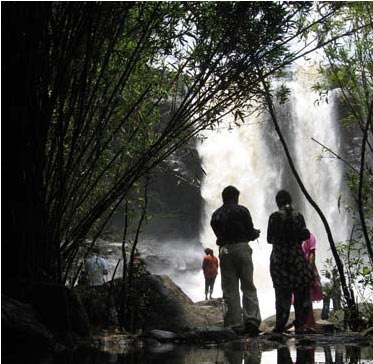 Tips


Bus Timings from Chalakkudy KSRTC stand: 8 am, 12.00, 1.45 pm, 3 pm, 5 pm. Ticket Charge Rs.16.50.


PORINGALKUTHU HYDEL TOURISM


As a part of the Poringalkuthu Hydel tourism project, boating has been started in Poringal dam. The 12 km journey in the lake near Anakkayam is conducted in speed boats or slow boats. The forest beauty of the vegetations of Poringal, the forest area of Sidhan pocket and Mukkupuzha will enchant the tourists . The charges for the speed boat for five people is Rs. 300/- (15 minutes). For the slow boat it is Rs. 200/- for six people (20 minutes). The dam is located on top of the Athirappilly water falls. Travelling 12 kilometers via Anamala road, you can reach Poringal dam. The suitable time for travelling is December to August. The time for boating is 9:30 AM to 5:30 PM. For more information: Please contact the manager. Sivadasan-Phone: 9961091770.


Text: T J Sreejith
Photos: Madhuraj
Translation: Balachandran