Ayurvedic Centers in Kerala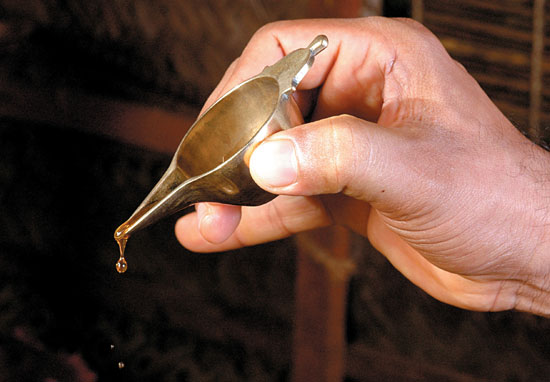 Ayurveda, an ancient branch of medical science is believed to have originated in India before 4000 years (during second millennium BC). The Sanskrit word Ayurveda means the complete knowledge or science for long life. The ancient Sanskrit texts 'Susruta Samhita' and 'Charaka Samhita' are supposed to be the sum of the fundamental works of Ayurveda.
Now, over the following centuries, ayurvedic practitioners developed a number of medicinal preparations and surgical procedures for the treatment of various ailments. Thus, with the aid of traditional medicines and methods, Ayurveda has achieved a prominent place in the area of Health Management. And Kerala is one among the many states of India highly specialized and researched in Ayurveda.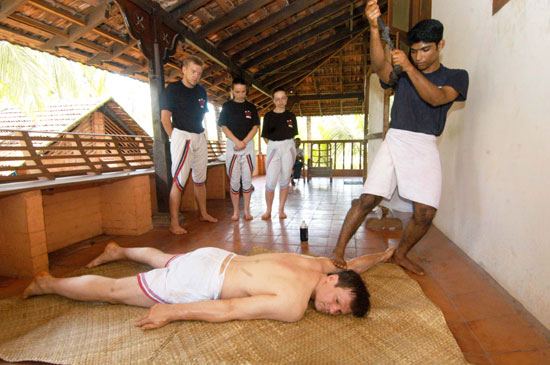 Financial Aspects of the treatment:



The expense for the treatment is according to the chosen treatment, package and days of treatment. There are treatments varying from one hour massage to 28 days treatment.

According to the packages the charges varies, starting from Rs. 4,000/-. The duration of the treatment is fixed as 7, 14 ,21 and 28 days. A minimum of 7 days treatment is required for refreshment course. As per the packages of a major ayurvedic hospital with five star facility, the expense for one person will be as follows:

For 7 days - Rs. 71,400/-
For 14 days - Rs. 127,680/-
For 21 days - Rs. 183,960/-
For 28 days - Rs. 215,040 /-


While choosing ayurvedic centers:


While you are selecting a Ayurvedic centre for treatment, the main things to be taken care of are:

Make sure that the centre is an approved one.

Collect the information about the traditional aspects of the centre.

Make sure the centre have sufficient facilities for treatment.

If the centre comes under the classification of Kerala State Tourism Department, please check whether they have provided the facilities recommended by The Tourism Department.

Look for the display of treatment, category and duration.

Make sure that the medicines used in this centre are only from approved manufactures.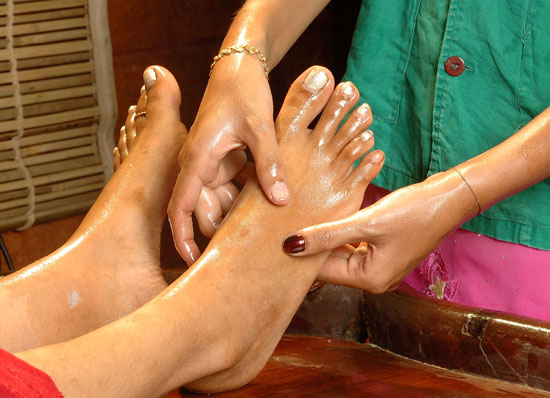 List of Ayurvedic Centers in Kerala

(AS listed by KSTD)

THIRUVANANTHAPURAM

Somatheeram Ayurvedic Resort, Chowara.
0471 - 2269101, Fax: 2267600.

Charaka, Thiruvampadi Beach, Varkala.
0470 - 2601305.

Anandam – The Travancore Heritage, Chowara.
0471 - 2267828.

Coconut Bay Beach Ayurvedic Centre, Mulloor, Vizhinjam.
0471 - 1480566.

Bela Ayurvedic Helth Centre, Poovar.
0471 - 2210008.

Prakrithi Ayurveda Centre, Samudra Beach, Kovalam.

Manaltheeram Ayurveda Beach Village, Chowara, Balaramapuram.

Taj Varakala Ayurveda Centre, Janardhanapuram, Varakala.

Thapovan Ayurveda Centre, Vizhinjam, Chowara.
0471 - 2480453.

Ideal Ayurvedic Resort, Vizhinjam, Chowara.
0471 - 2268532.

Aswasam Ayurveda Hospital, Vallithoppu.
0471 - 2507834.

Niramaya Ayurvedic Spa, Pulinkudi, Mulloor.

Kerala Bamboo House Ayurveda Resort, Papanasam, Varkala.
9895270993.

Ayur Ashram, G.V.Raja Road, Samudra Beach Kovalam.
0471 - 2481654.

J.V.Ayurveda Bhavan, Chettikulangara.
0471 - 2478517

Guruprakash Ayurveda Centre, Vellar, Kovalam.
0471 - 1480352.

Sanjeevanai Ayurveda & Yoga Centre, Varkala.
9846010812.

Arsha Ayurveda Hospital, Poomkulam West, Vellayani
0471 - 2483351

Travancore Heritage Ayurvedic Centre, Chowara Balaramapuram.

Medicus Ayurvedic Centre, Nillimukku, Mulor.

Vijay Ayfoot Therapy Centre, Choozhattukotta

Ayusha Ayurveda Centre, Beach Road.

Udaya Samudra Leisure Beaxh Hotel, Kovalam, G.V.Raja Road.
0471 - 2485766

Vaidyasala Ayurvedic Centre, Esturay Island, Poovar.
0471 - 2214355

RIBIS Health Centre, Chowara, Balaramapuram.
0471 - 2267974

Devaki Ayurvedic Foundataions, Edapazhanji.
0471 - 2326022

Dr. Chandrans Atyurvidic Hospital, Kallattumukku, Kovalam Road.
0471 - 3222544

KOLLAM

Ashtamudi Resorts, Malibhagom, Chavara South.
0476 - 2882310

Sree Shanmukhavilasam Hospital, Post Office Jn>, Punalur.
0475 - 2222223.

Amrutha Ayurveda Hospital, T.B.Junction, Kottakkara.

Ayurgramam Panchakarma Kendram, Koivila, Kollam.

Ayurarogya Speciality Centre, Thevally.

Sarovaram, Ashtamudi, Kollam.

Sreenarayana Institute of Ayurvedic Studies & Reserch, Karinpinpuzha, Pangode

Ojas Ayurvedic Centre, South Paravoor.
0474 - 2512410

PATHANAMTHITTA Ayurvedic Speciality Hospital, Knnamcode, Adoor.

Anima Ayurvedic Medical Centre, Mallappalli.
0469 - 2682325

ALAPUZHA

The Marari Beach Ayurvedic Centre, Mararikulam North, Marari Beach.
0478 - 2363801

Krishnendu Ayurved Hospital, Chingoli.
0479 - 2486337

Peace Cottage, Muhamma Junction.
0478 - 2863495

Jeevanam Ayurveda Hospital, Town Hall Junction, Haripad

Pampatheeram Ayurvedic River Side Village, Chenganur Puthencavu
9846057018

Snjeevani Ayurvedic Centre, Punnamada.

Lke Palace, Tirmala Wad, Chungam
0477 - 2239701

KOTTAYAM

Ayurmana, Kumarakom North.
0481 - 2524900

Athreya Ayurvedic Centre, Pallom.

Chamundi Hill Palace Ayurvedic Resort, Edakkulam, Kanjirappalli.
04828 - 251739

Amba Ayurveda Hospital, Perunna.
0481 - 2420354

Sukhadaya Resorts & Ayurvedic Park, Kanjirappalli.
9847422211

Vedasparsh, Backwater Pipples, Kumarakom.
0481 - 2523600

Coconut Lagoon, Kumarakom.
0481- 2524491

Dhawanthari Ayurvedic Centre, Kodimatha
0481 - 2363637

Ayurtheeram Ayurveda Resort, Kumarakam Tourist Complex.

Madukkakuzhyal Vydyasala, Parathodu, Kanjirappalli.

K.P.Pathros Vaidyans, Kumarakom, Kochumada.

Ayur Lakshmi, Kumarakom North.
0481 - 2523313

IDUKKI

Ayura Ayurvedic Centre, Thekkady Road, Kumili
04869 - 224501

Spice Village Ayurvedic Centre, Thekkady, Kumili Road.

Club Mahindra Lake View, Chinnakanal.
04868 - 249290

Sahyadri Ayurvedic, Peerumede.
04869 - 2332157

Taj Garden Resort, Thekkady.

ERNAKULAM

KAPL Hospital, Aluva.
04843626119

Nagarjuna Ayurvedic Cntre, Kaladi.
0484 - 2463350

Tamara Spa Ayurveda Taj Malabar,Willigdon Island, Kochi.
0484 - 2666811

Punarnava Ayurveda Hospital, Edappally North.
0484 - 2801415

Soft Touch Ayurvedic Centre. Kundanoor Junction, Maradu.
04842705777

Merry Land Panchakarma Institute, Akaparambu, Nedumbassery.
0484 - 2611273

The Kerala Ayurvedic Spa, Thottakkattukara, Aluva

Sreedhareeyam Eye Hospital & Reserch Centre, Koothattukulam..
0485 - 2253007

Karuna Ayurveda Centre Pvt.Ltd., Ernakulam North.

Ayurkaendram, Herbs and Health Foundation and World of Yoga, Ravipuram.

Health Shore, Ravipuram.

Amrutham Ayurveda Hospital, Aluva.
0484 - 2476301

Trident Hilton Ayurveda Centre, Willingdn Island.
0484 - 2669595

Ayurvaid Hospital, Girinagar, Kochi.

Naivedya Ayurveda Hospital & Reserch Centre, Ponnirunnu, Vyttila.
0484 - 6573926

Chandra Ayurveda Hospital, Mattanchery.
0484 - 2210160

Sarathy Ayurvedic Hospital, Muppathadam, Aluva.
0484 - 2605309

Anivin Ayurveda Hospital, Thripunithura.
0484 - 2781754

Nagarjuna Ayurvedic Retreat, Malayattoor.

Purnagram, Mulamkuzhy, Malayattoor.
0484 - 2469012

Rajah Island, Chettuva.
0487 - 2531496

THRISSUR

Majlis Health Park, Peramangalam, Peringannur.
0487 - 2212845

Chikilsalayam Kadappuram Resorts and Hotels, Nattika Beach.
0487 - 2394988

Sitaram Ayurveda Speciality Hospital, Veliyannoor.
0487 - 2443895

P.N.Ayurvedasramam Sree Narayana Dharma Sabha, Kodungallur.
0480 - 2813145

Holy Basil, Chruthuruthy

Vinayaka Ayurvedic Nursing Home, Palakkal
0487 - 2346789

S.N.A.Ayurveda Nursing Home, Moospet Road.

Oushadhi Panchakarma, Shornur Road
0487 - 2334396

Ashtavaudyan Thaikkattu Moss Vaidyaratnam Nursing Home, Thaikkattussery, Ollur.
0487 - 2352338

Ayuryogasram Ayurvedic Centre, Vadakkanchery, Parlikkad.
0884 - 237976

Sree Chitra Ayur Home, Chavakkad, Manathala.
0487 - 3267423

Nilayoram Resorts & Ayurvedic Centre, Panikulam, Cheruthuruthy
0487 - 2384788

Athreya Ayurvedic Centre, Peringannur, Pallom.
0487 - 2212845

PALAKKAD

Rajah Healthy Acres Pvt.Ltd., Chalissery.

Poomully Aramathampuran, Smaraka Trust, Peringode.
0466 - 2370660

Dharmagiri St. Joseph'sHolistic Healing Centre, Vadakkencherry.
04922 - 256032

KOZHIKODE

Kadavu Ayurvedic Health Centre, Azhinjilam.
0483 - 2830023

Taj Ayurveda Centre, P.T.Usha Road.

Sree Subrahmaniya Ayurvedic Nursing Home, Karapparamba.
0495 - 2371452

Harivihar Ayurvedic Heritage Home, Bilathikulam.
0495 - 2765865

Highlife Ayurvedic Hospital, Mukkom, Karassery Jn.
9447338173

Greens Ayur Hospital, Azhiyur.
0496 - 2504452

WAYANAD

Ayurrkendra Ayurvedic Hospital, Kalpetta.
04936 - 203953

Kannur Ayurvedic Multispeciality Hospital & Yoga Research Centre, Emily, Kalpetta.
04936 - 203001

KANNUR

Asoka Panchakarma and Orthopidic Clinic, Talikkavu Road.
0497 - 2712606

Amrutham Arya Vaidya Pharmacy, Gokhale Road.
0497 - 2763888

OTHER MAJOR CENTRES

Sreerangom CVN Kalari Chikitsa Kendram, Chabakkara, Kottayam.
0481 - 2486114, 2486115

Keraleeya Ayurveda Samajam, Shornur.
0466 - 2222403, 2223225

SD Pharmacy, Palace Road, Alapuzha.
0477 - 2251276

Shanthigiri Ashram, Thiruvanantapuram.
0471 - 2419313

CVN Kalari, Edakkad, Kozhikode.
0495 - 2391808

Kottakkal Aryavaidyasala, Kottakkal.
04832808000

Keraleeyam Ayurvedic Resort, Thathampalli, Alapuzha.
0477 - 2231468

Cherai Beach Resort, Vypin Island, Cherai Beach.
0484 - 2416949

Warrier's Hospital & Panchakarma Centre, Puthiyavila, Kayamkulam
0479 - 2431403

Cholayil Sanjeevanam Ayurveda Centre, MN's Avenue, P.T.Usha Road.
0495 - 2367270