Alappuzha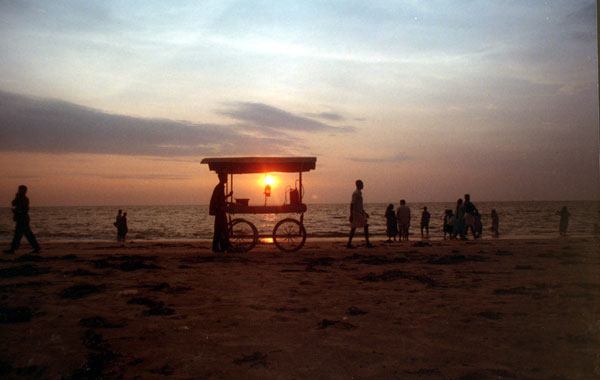 Etymologically speaking the word Alappuzha is derived from two words, Ala and Puzha. According to Dr. Gundert the German Lexicographer, Ala means broad and Puzha is river. It is a Land Mark between the broad Arabian sea and a net work of rivers flowing into it. In the early first decade of the 20th Century the then Viceroy of the Indian Empire, Lord Curzon made a visit in the State to Alleppey now Alappuzha. Fascinated by the Scenic beauty of the place, in joy and amazement, he said, 'Here nature has spent up on the land her richest bounties'. In his exhilaration, it is said, he exclaimed, Alleppey, the Venice of the East.
Thus the sobriquet found its place in the world Tourism Map. The presence of a port and a pier, criss -cross roads and numerous bridges across them, a long and unbroken sea coast might have motivated him to make this comparison. Of course Alleppey has a wonderful past. Though the present town owes its existence to the sagacious. Diwan Rajakesavadas in the second half of 18th century, District of Alappuzha figures in classified Literature. History says it had trade relations with ancient Greece and Rome in B.C and in the Middle Ages. For example, Purakkad an ancient port near Alappuzha was Barace for them. Different religious such as the Parsur, Gujaratis, Mamens and Anglo Indians to mention a few, commingled together and settled here. They built their churches and mosques and temples having architectural grandeur. Such sites are worth seeing. The whole of kuttanadu, the Netherland of the East presents another picturesque sight.
Census :


Area1,414 Sq.Km. which constitutes 3.64% of the total state area.
The population size2,105,349 which is 6.61 % of the state population.
Population density- 1492 persons per Sq.Km, against 1415 in 1991- retains the first positionin the state.
Sex-ratio(No. of females per 1000 males) - 1079 , earning 4th position (5th position in 1991 with 1051)
Literacy Rate93.66 % which earns it 3rd position in the state.(State Average - 90.92%)
Female Literacy rate91.14 which again earns 3rd position in the state.(State Average-87.86%)

North Latitudes - 9o05' and 9o54'

East Longitudes - 76o17' 30' and 76o40'.


Boundaries:


North – Kochi and Kanayannur Taluks of Ernakulam district
East – Vaikom, Kottayam and Changanassery Taluks of Kottayam district and
Thiruvalla, Kozhencherry and Adoor taluks of Pathanamthitta District
South – Kunnathur and Karunagappally of Kollam District
West – Lakshadweep ( Arabian ) sea


TOPOGRAPHY


The district is a sandy strip of land intercepted by lagoons, rivers and canals. There are neither mountains nor hills in the district except some scattered hillocks lying between Bharanikkavu and Chngannur blocks in the eastern portion of the district. Cherthala, Ambalappuzha, Kuttanad and Karthikappally fully lie in low land region. There is no forest area in this district.


CLIMATE


The climate is moist and hot in the coast and slightly cool and dry in the interior of the district. The average monthly temperature is 250 C. The district also gets the benefit of two outstanding monsoons as in the case of other parts of the state.

Hot season - March to May

South-west monsoon (Edavappathi) - June to September

North-east monsoon (Thulavarsham) - October to November

Dry weather - December to February

The district has 8 reporting rain gauge stations at Arookutty, Cherthala, Alappuzha, Ambalapuzha, Harippad, Kayamkulam, mavelikkara and Chengannur as recorded in 1989. The average rainfall in the district is 2763 mm.


GEOLOGY


The geological formations of the district are classified as :

a belt of crystalline rocks of the archean group
a belt of residual laterite
a narrow belt of warkalli bed od tertiary group
a western most coastal belt of recent deposits
The most relevant crystalline rock type is Charnokites. Residual laterite is the resultant product of the insitu alteration of the crystalline rocks. Warkalli beds consist of a succession of variegated clays and sand stone. The coastal belt consists of recent sediments like aluvium, marine and lacustrine.


RIVERS and LAKES


The district has a network of rivers,canals and backwaters. Manimala, Pampa and Achancovil are the major rivers.


Manimala River


Originates from Mothavara hills in Kottayam district enters the district at Thalavadi village in Kuttanad taluk and passes through Edathua and Champakulam villages and joins the Pamba river at Muttar.The villages of Manimala, Mallappally, Kaviyoor, Kalloppara, Thalavadi, Kozhimukku and Champakkulam lies in the course of the river Manimala. It has a length of 91.73 Km and drainage area of 802.90 Km.


Pamba River


Pamba, the third longest river in Kerala is formed by several streams originating from Peerumedu plateau in Idukki district, enters Alappuzha district at Chengannur and flows through Pandanad, Veeyapuram, Thakazhy, and Champakulam through a distance about 177.08 Km and plunges into vembanad lake through several branches such as Pallathuruthi Ar, Nedumudi Ar and Muttar. The river has a length of 117 Km and is navigable to a length of 73 Km.. The catchment area of this river is 1987.17 Sq.Km. The main tributaries of the river are Pambayar, Kakki Ar, Arudai Ar, kakkad Ar and Kallar.


Achankovil River


This riveroften known as Kulallada river, originates from Pasukida mettu, Ramakkal Theri and Rishimalai of Kollam district enters the district at Venmony and has a catchment area of 1155.14 Sq.Kms and a marginable length of 32.19 Km. Passes through Cheriyanad, Puliyoor and Chengannur villages, enters Mavelikkara Taluk at Chennithala, flows through Thriperumthura and pallippad villages and joins Pamba at Veeyapuram.


Back Waters

Vembanad Lake


The Vembanad lake, the most important of the west coast canal system has a length of 84 Km and an average breadth of 3.1 Km. It covers an area of 204 Sq.Km. Stretching from Alappuzha to Kochi. Borders Cherthala, Ambalapuzha and Kuttanad Taluks of Alappuzha district, Kottayam, vaikom and Changanasserry taluks of Kottayam district and Kochi and Kanayannur Taluks of Ernakulam district. Pamba, Achankovil , Manimala, Meenachil and Muvattupuzha rivers discharge into this lake. Pathiramanal, often called the mysterious sand of midnight, having coconut palms and luxuriant vegetation is situated in the centre of this lake. Perumbalam and Pallippuram are the other islands in this lake. The Thannermukkom regulator constructed across Vembanad lake between Thannermukkom and Vechur is intended to prevent tidal action and intrusion of saline water into the lake. It is the largest mud regulator in India.


Kayamkulam Lake


Stretching between Panmana and Karthikappally, Kayamkulam lake is a shallow lake which has an outlet to sea at Kayamkulam barrage. It has an area of 59.57 Sq.Km., a length of 30.5 Km and an average breadth of 2.4 Km. It connects Ashtamudi lake by the Chavara Panmana canal.


Canals


Alappuzha has a network of canals included in the west coast canal system which are used for navigation. The important canals are Vadai canal, Commercial canals and the link canals between these two canals. Apart from these, there are many inland canals which are mainly used for passenger navigation and commercial purposes.

The lakes are used for inland water transport of passengers and cargo. Inland fisheries have also been flourished in these regions.


Sea Cost


Alappuzha has a flat unbroken sea coast of 82 Km length which is 13.9 % of the total coastal line of the state. An interesting phenomenon of this seacoast during the month of June is the periodic shifting of mud bank popularly known as 'Chakara' within a range of 25 Km in Alappuzha-Purakkad coast due to hydrolic pressure when the level of backwater rises during south-west monsoon.


Places of interest


1. Pathiramanal - According to mythology a young Brahmin dived into the Vembanadu lake to perform his evening ablutions and the water made way for land to rise from below, thus creating the enchanting island of (sands of midnight) Pathiramanal . This little island on the backwaters is a favourite haunt of hundred of rare migratory birds from different parts of the world. The island lies between Thaneermukkom and Kumarakom, and is accessable only by boat.

2. R-Block. - These regions are wonders of the indigenous agricultural engineering kow-how of Kerala and remind the visitor of the famous dikes of Holland. Extensive areas of Land have been reclaimed from the backwaters and are protected by dikes built all around . Here cultivation and habitation are made possible four to ten feet below Sea Level. A leisurely cruise along the Canals that surround these Kayals is a memorable experience.

3.Karumadikuttan -Many fascinating legends are associated with this 11th century statue of Lord Buddha.

4. Kumarakodi - 20 km south of Alappuzha, Mahakavi Kumaranasan, one of the greatest poets of modern Kerala is laid to rest here. He was the P.D Shelly of Malayalam Literature. As an brought great changes in literature and could give the clarions call for changing the society also.

5. Saradha Mandiram, Mavelikkara - A.R Rajaraja Varma was a great poet and grammerian, The Malayalam literature is much indebted to Sri. A.R Thampuran. Saradha Mandiram was built by him as his residence. Now it is bought by the State Govt. & kept as his memorial.

6. Krishnapuram Palace - Built by Marthandavarma, this place at karthikappally in Kayamkulam is famous for its mural depicting the story of Gajendramoksham. Dating back to the 18th century, this exquisite piece of art is one of the largest murals in Kerala. This palace museum houses antique sculptures, paintings and bronzes.

7. Alappuzha Beach - This is one of the most popular picnic spots in Alappuzha. The pier, which extends into the sea here, is over 137 years old. Entertainment facilities at the Vijaya Beach Park add to the attractions of the beach. There is also an old light house which is greatly fascinating to visitors.