Sundarapandyapuram: cinema's hotspot
Destination/ Location trails/ Sundarapandyapuram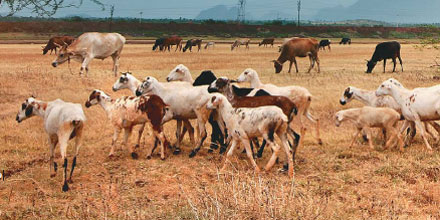 During my journey to Sundarapandyapuram, I met a person resembling Yugalaprasadan in the novel Aranyak (In the forest ) written by Bibhutibhushan Bandopadhyay, who planted flowering trees to festoon the forests. Sundarapandyapuram unfolded its scenic beauty just 15 minutes into our journey from Thenkasi. The sky was like a blue silk sari, canals with water spilling over on the roadsides, lush green paddy fields, sunflower fields, coconut farms, rounding windmills, among them black palm trees standing in solitude and small hills just stood ahead of it. Cattles and flocks of goats grazing in between the shrubs. A village girl wearing half sari, with mallikapoo on her hair and dancing to the tunes of Illayaraja music with a lamb in her hand makes the scene perfect. A beautiful scene which we have seen in a number of Tamil films.
Just 4 km before reaching Sundarapandyapuram , there lies a rocky area called `Anyan Para'. Its old name was Puliyoorpara, but after shooting the `Randaka…..Randaka… song of the film `Anyan ' with Vikram and Sadha surrounded by hundreds of dancers , this became Anyan Para.
This stony area stood like an open air theatre in the middle of widely extended lush green fields as its flat surface stood facing the field. In its sides stood tall rocks standing like walls. In those huge stones, big caricatures of film stars like Rajnikant , MGR and Kamalhasan were drawn for the purpose of the song scene. This rocky area and roads were coloured for the film. In most of the places the colour has not even faded yet.
We were under the shady trees on the banks of swarming Puliyoorkulam. There stood a banyan and peepul tree. In its sides small banyan trees were just widening its branches . There was a thatched hut with coconut leaves. In the courtyard a black slender man was separating the ribs from the coconut leaves. He is Chudalapandi Thevar. He lives by selling knit coconut leaves and gets Rs 30 to 40 per day. In the metal plate nailed on the banyan tree there is written-Tree planted by Chudalapandi Thevar. Varakudiya makkal pathukakkanam (Those who come here should protect it). All those trees were planted by Thevar. For what purpose? I asked. For shadow, he said. The sunlight thinned by the banyan trees had a special attractiveness.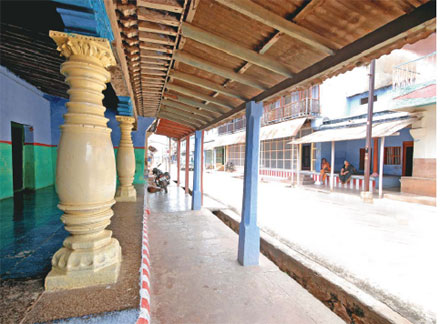 In the novel Aranyak, there was no flowers in Saraswathi van. So Yugalaprasadan planted flowering trees. In the banks of Puliyoorkulam there are no shade bending trees. So Thevar planted shady trees. It seemed that the film artists who created new myth for the stony area and thevar who granted shade for the road, shared one mind. A creativity to change the locale. Thevar said he is the sole guard of this rocky area, pond and fields. Thanking for his priceless service, we continued our journey in the land bearing the shades of films.
Sundarapandyapuram has a very small town sans huge buildings. After crossing small houses and roads, we reached another village. It seemed that the season had changed in split second. A nostalgic view was before us. A serene and grand agraharam bearing ancient symbols ,stood in the street in the road which divided into two streets from Rajagopalaswamy temple. The roof of this two storied building rested upon stone pillars with intricate sculptures . There were colourful `kolams' (rangoli) drawn in stone floors. One street is called Vadakketheruvu and the other is Sannathiteruvu. These two streets join in the two corners of Periya Kulam (pond) with 250 acre breadth.
On the centre part of one corner is the Thoppakulam (kulikulam) with Kalmandapam (stone stage). Its back stage is adorned by the fields of chili, groundnut, sunflower. On other side is lush green paddy fields extended to thousands of acres of land. All unite to form a chaste village script. For all these reasons the spot became a shooting location for more then fifty films and serials.
The first film which was shot here was Roja directed by Mani Ratnam. Then Anyan, Muthalvan, Dhool, Kankaluam Kavithapaduthey, Mayakannadi, Yaredi Nee Mohini, then Malayalam films like Soothradharan, Kalabham and host of other films. For the agraharam scenes to be shot in Thenkasi, Sudarapandaypuram is the hot choice. There are 180 families in the agraharams. Majority of them are inter-related. In most of the homes only elders are left as their kids after studying IT are working in America and other countries. They all will return during the thaipoosam festival in Rajagopala swami temple.
In the agraharams , the time was for a short noon break as the women were having great time chatting sitting in the courtyard. The elder men who were sitting idle in the verandah laughed in full heart. They all will have a fun time when a film shooting unit comes here. Many has close relation with some of the actors too. `Jagathi and Sukumari came here. It is like meeting our relatives while seeing them, said N Ramayyar a Malayalee in the Agraharam. Ramayyar who retired from land bank in Kerala is now residing here with his wife Ganga.
The exterior part of the agraharams are kept in the old fashion itself but interior parts echoe the signs of modernity with symbols reflecting luxury and wealth.
The village is under the responsibility of welfare committee formed by selected representatives from each community. We met the head of the committee Gopalasubramaniyam. Here there is no local police stations. But there is people security squad comprising of 14 members from various communities and they will punish if one commits crime. Police will intervene only in serious cases. The main source of income is revenues from the sale of fish caught form periyakulam. The pond over flows during the monsoon in Tamil months of Aipasi and Karthika .
Sundarpandyapuram is not a tourist spot. Just go there and enjoy the scenic beauty without causing annoyance to villagers here. But once you are there , you will keep all the memories framed in your mind.
Text: S.N Jayaprakash
Photos: Vivek R Nair
Translation: Shamila K.Y