Rain's own country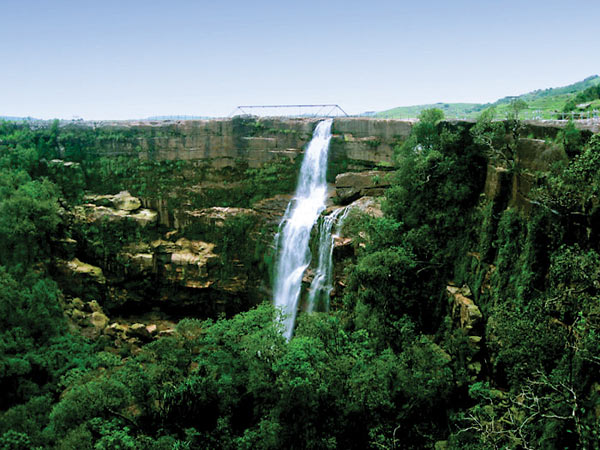 Cherrapunji is a peacock spreading its feathers in the rain; where else to go to see the rain. Cherrapunji still holds the title 'The Capital of Rain' in the world. It might have been the British who adorned it with the sobriquet, the 'Scotland of the East', et al.
With the hill slopes and the rain forests all in bloom and the cascades even in summer, that is not quite an apt metaphor for Cherrapunji. With the onset of the Monsoon, she becomes all the more beautiful. For those yearning for a Monsoon vacation filled with adventure and mirth, there is no better place other than Cherrapunji.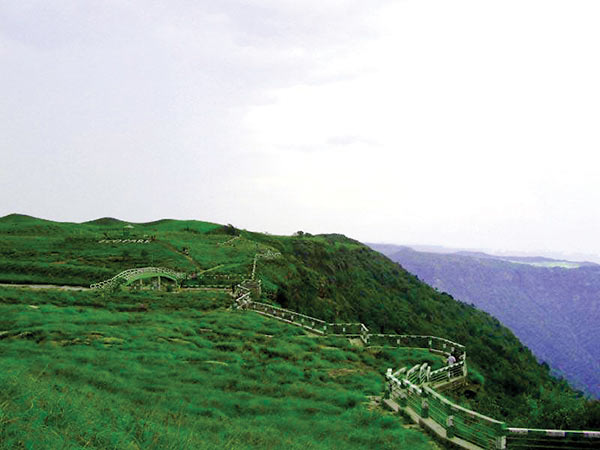 The entrance to Meghalaya is from Assam. You can go to Shillong from Guwahati and from there to Cherrapunji. This place is located on a plateau in a high hill range. The 4500 foot high hill range of Cherrapunji blocks the Monsoon clouds coming from the Bay of Bengal through the plains of Bangladesh, abruptly rising like a fort, a citadel, even rain clouds cannot surpass.
There, the clouds cannot but only burst down. The average rainfall in Cherrapunji, an area of 100,120 sq. kilometers, is 11,820.8 mm for the past 37 years. (We would marvel at this place when we know that the area of Mount Waiale?ale in Hawaiian Islands, another one of the world famous rainiest places, is only five sq. kilometers.). Mawsynram, a place lying cheek by jowl with Cherrapunji, is also famous as a wettest place in the world.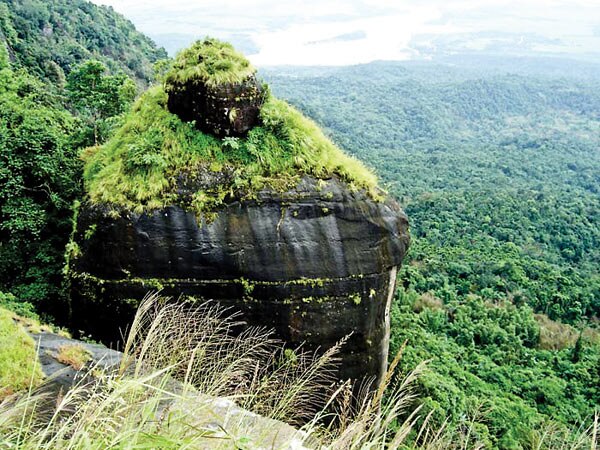 Cherrapunjee


Cherrapunjee, the rain capital of the world, (now officially known as 'SOHRA'), is situated in Meghalaya state of India, along the borders of Bangladesh. Khasi people of Mon-Khmer origin inhabit it. It falls in East Khasi Hills District of Meghalaya. Locally and officially known as Sohra, Cherrapunji is a spectacular location with the year-round rain.

Altitude : 4823 feet (1484 m).

How to reach

Cherrapunji is 56 km from Shillong, the capital of Meghalaya.

By Road: You can take a bus or taxi to Cherrapunji, after reaching Shillong. A steep motorable road leads up to Cherrapunji. Buses and taxis ply to Cherrapunji from Shillong. Meghalaya Transport Corporation (MTC) Shillong Ph: 2223200

By Air: There is a small airport at Umroi, about 35 km from Shillong. At present, Air India operates with ATR42 type of aircraft on this route. Buses / Taxis are available from Shillong to Umroi and back. Flight Schedule: Flight No CD9719/9719. Kolkata-Shillong, Shillong-Jorhat-Kolkata. Mon, Tues and Thurs. CD9711/9712 Kolkata-Shillong-Kolkata. Wed, Sat and Sun. M.T.C. Bus Service from Shillong to Umroi Airport depart from Umroi on Arrival of flight from Kolkata. Fare : Rs 100/- per passenger. Govt. of Meghalaya is also running a helicopter passenger service on Guwahati- Shillong - Tura sector.

It takes 20 mins. to reach Shillong from Guwahati. For details and bookings, contact: Meghalaya Helicopter Service, MTC Bus Stand, Police Bazar. Ph:2223129, Sheba Travels Ph: 2227222, Tower Tours & Travels Ph: 2220075. Another convenient airport, the Gopinath Bordoloi Airport in Guwahati (128 km from Shillong) is connected to rest of India with regular flights. Shared cabs are available from outside airport connecting to Shillong. The rate is Rs. 300 per passenger.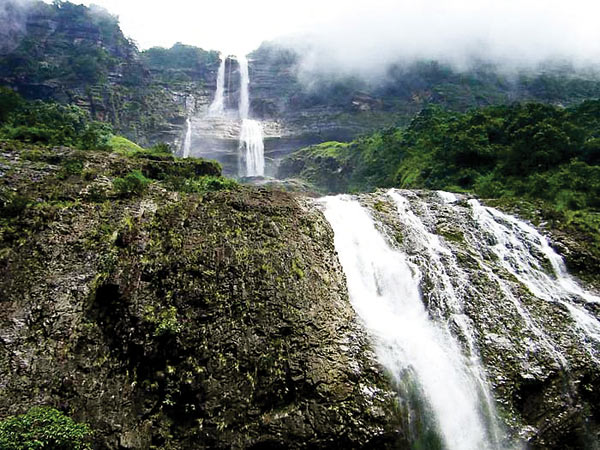 Festivals of Cherrapunjee


Shad Suk Mynsiem, Sohra. Season: February n Sohra Festival Sa-I-Mika Park, Sohra. February 3rd week


Accommodation


Cherrapunjee Holiday Resort, Village Laitkynsew, Cherrapunjee: This resort is a family run Nature Resort, promoted as a Family Holiday Destination. Situated about 15kms from Cherrapunjee town, the resort is perched atop a hill overlooking the hills on one side, a hamlet and the plains of Bangladesh on another. They have developed a number of enchanting Nature Treks, including treks to the the Living Root Bridges, which are exclusive to Meghalaya in the whole world. Tariff (incl of taxes): Double Bedded Standard Room: Rs. 2130/-, Double Bedded Deluxe Room: Rs. 2255/- Double Bedded Executive Room: Rs. 3755/- Ph: 03637 244218, 244219, 244220, 94361 15925, 96153 38500, 98630 79856. http://www.cherrapunjee.com/

Coniferous Resort, Cherrapunjee: Ph: 03637 235537, 9436178164, 9615791752. Tarrif : Double room Rs. 1200 +10% service charge, Family room: Rs 2400+10% service charge

Sohra Plaza, Sohra Market , Cherrapunjee: Ph: 9774970825, 9436308007. Tariff: Rs. 450 - 550
Sa-I-Mika, Khliehshnong, Cherrapunjee Rs. 94 363 07 200, 98 630 20 718
Eco - Park Guest House, Cherrapunjee Ph: 98620 91212, 98560 65544.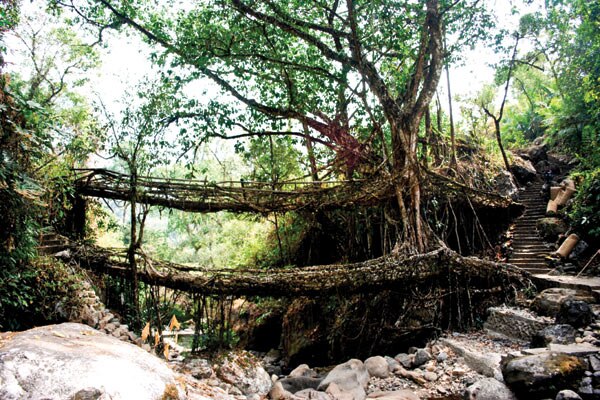 Seasons


seasons of Meghalaya are Spring (i.e. March to April), Monsoon (May to September), Autumn (October to November) and Winter (December to February)


Monsoon in Cherrapunjee


Rainfall Distribution at Cherrapunjee (1973-2011 : 39 Year Average)
Month Rain in mm
January 14.4
February 68.7
March 63.2
April 863.3
May 1314.3
June 2481.9
July 3095.6
August 1826.4
September 1186.9
October 520.5
November 63.2
December 22.4
Annual Total 11820.8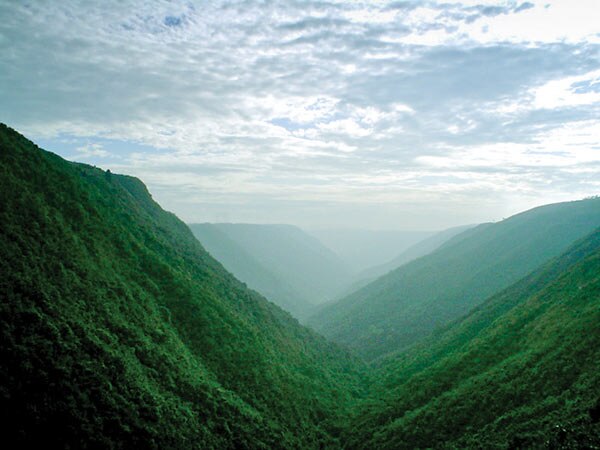 Tour Operators


For Conducted Tours & Local Sightseeing

Meghalaya Tourism Development Corporation Ph: 0364-2226220
Van Rap Tours & Travels Ph: 0364-2220954 (M): 9863028787/9436103247
Cultural Pursuits Adventures, Ph: 0364-2550573 (M) 98630-60937
Meghalaya Adventure Tours (Cave Tourism), Ph: 0364-2545621/2548059 (M) 098630-60368
Natural Ways- Adventure Tour Garo Hills, Ph: 098630-91278 (M)
Nakliar Tourist Info Centre & Travels, Ph: 0364-2229598/2502420
Tower Tours & Travels Ph: 0364-2222341/2222342
Meghalaya Road Runner Tours Ph 098630-25621/94361-08581
Walk With Nine Lives Phone: 9863472784, 9831419047
Quest Holidays Ph: 0364 2501671, 9863300397, 9856026363
New Horizon Travel & Tours Ph: 0364-2223233 (M) 98630-26900.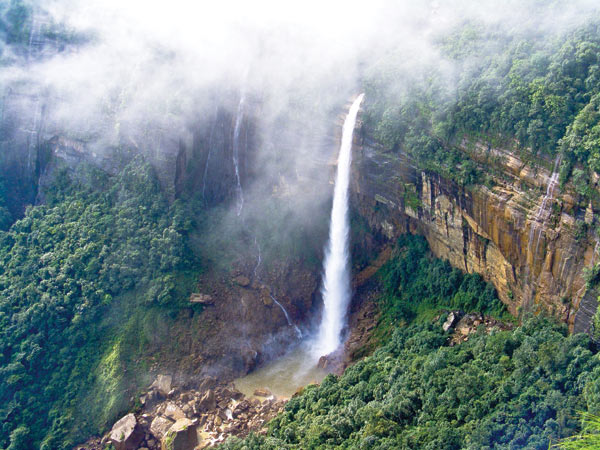 Travel Agencies


Sheba Travels Ph: 2223015/6222/5020
Jais Travels Ph: 2222777
Global Tours & Travels Ph: 2502318
Indrani Tours & Travels Ph: 2228150
Just Trippin' Ph: 2228415
Nongbri Travels Ph 2228118
Sophia Tours & Travels (M)9863239999
Travel City Ph: 2228568
Natasha Travels Ph: 2228422/8845
Towers Tours & Travels Ph: 2222997
Nakliar Tourist Information & Travel Ph: 2502420
Golden Arrow Ph: 2501240
Tour 'N' Style Ph: 09863062190, 9863064346, 9856817554
Aripile Travels Ph: 94361-62838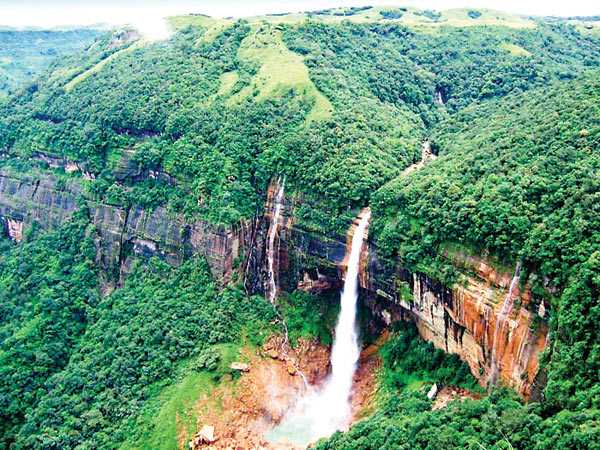 Contact


The Directorate of Tourism, 3rd Secretariat Nokrek Building, Lower Lachumiere, Shillong - 793001, Meghalaya, India Ph: 0364- 2500736 / 2502166. website: megtourism.gov.in

Meghalaya Tourism Development Corporation, Polo Road, Shillong - 793001, Ph: 364-2222731/2224933/ 2505012/2224471.

India Tourism, Tirot Sing Road, Shillong - 793001, Ph: 0364-2225632


Tourist Information Centres


Meghalaya House, New Delhi Ph: 011-23014417
Meghalaya House, Kolkata Ph: 033-24411937
Meghalaya House, Guwahati ph: 0361-2544343/632174
Toll Free Telephone Ph: BSNL 1364


Recommended tourist circuits


Don't miss Dian Thelen falls and Live Root Bridge in Cherrapunjee
Other treks recommended in Meghalaya
1. Kaziranga-Guwahati-Shillong-Cherrapunjee-Shillong
2. Shillong-Mawphlang-Weiloi-Mawsynram-Shillong
3. Shiilong-Smit-Nartiang-Thadlaskein-Jowai-Thlu Umwi-Shillong
4. Guwahati-Dudanai-Bajaengdoba-Angore-Tura-Barergapara-Baghmara-Siju-Balpakram-Shillong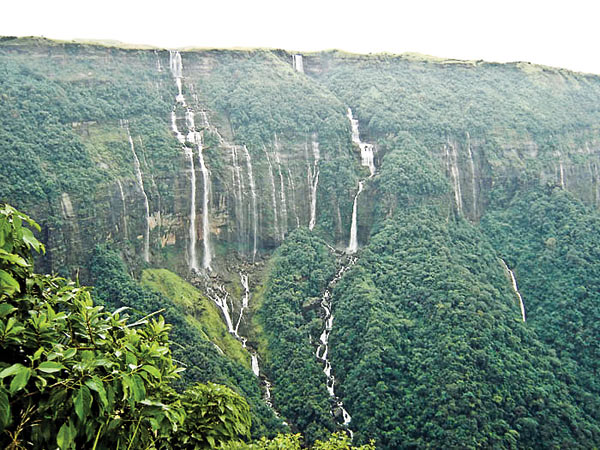 Recommended Reading


'Through the Green Door' by Nigel Jenkins, published by Penguin Books. The book has a lot to say about the Khasi people of Cherrapunjee and their lifestyle.

'The Monsoons' by Dr.P.K. Das, who was the Director General of the National Meteorological Service of the Government of India. Published by National Book Trust, India, A-5, Green Park, New Delhi – 110 016. Price Rs. 75/=.

'Chasing the Monsoon' by Alexander Frater for the passionate chasing of the Indian Summer Monsoon in the present day Incredible India.


Tips


Carry light woolen, Book your accommodation in advance, Don't fall victim of Taxi Drivers, Do not forget to carry an umbrella, it can rain any moment Dont move around late night. Try to come back to your hotel by 19.30 hrs, Avoid night bus journeys, Dress soberly and do not enter into debates on political or sectarian issues.