On the Yercaudan Hills
Salem is the steel city of India; a Tamilnadu city prosperous with industries and their auxiliary units - a city grown to prosperity with hard work even in the sweltering heat. But when the heat becomes unbearable the natives of Salem just have to travel only 30 kilometers to get a respite; just going up the chilly hill they can cool their body and mind and come down. Yercaud is the 'summer abode' of the Salemites; it is now an equally important stop like Ooty and Kodaikanal in the tourist map of South India.
The Tamilians extol Yercaud, a part of the Servarayan range of hills in the Eastern Ghats, as the 'Ooty of the Lowly' and the'Prince of Hills'. The journey to a height of 4700 feet above sea level is through a zig-zag road amidst the beauty of nature. Looking down from the pass high up one could see Tamilnadu villages and the views of Salem city. If the journey is in the night, the far-off view of the illuminated Salem city would be captivating. The bus stand is about three kilometers from Salem Railway Station. From there, buses to Yercaud is available at every half an hour or so. Once you reach there, all the important tourist spots are within a radius of four kilometers. Hiring an auto or a car, all those places could be visited within a short time.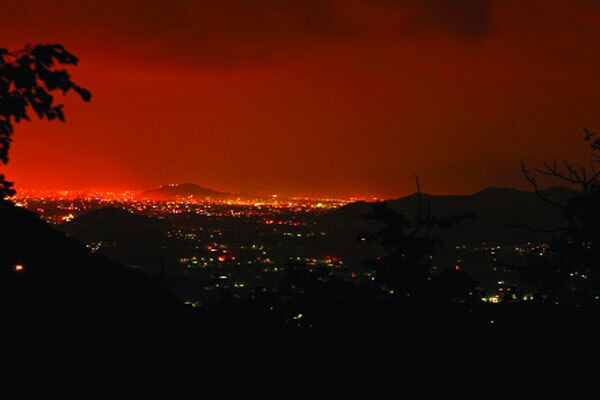 As we reach Yercaud after covering 20 hairpin bends ('oosi vallavukal' in the vernacular Tamil) the first to see is the lake, the raison d'etre for its fame, the Emerald lake or 'Marathaka thadaakam'. In Tamil 'Yeri' means lake and 'Kaadu' means jungle (as in Malayalam also). Thus the place with the lake and the jungle (joining 'yeri' and 'kaadu') became Yercaud. A boating on the lake - a walk through the Anna Park with a variety of plants on the lake shore - in the month May there would be an exhibition of flowers and fruits. It is also a horticultural farm. Nearby, there is a rose garden also. For entry to this rose garden with a wide variety of roses, the ticket fare is two rupees. Close to the lake, there is also a deer park. That closes at 5 PM.
While visiting Yercaud one should not miss visiting Killiyoor waterfalls; the best time to visit this is just after November. The distance to this place from Yercaud town is about three kilometers. Getting down from the vehicle, one has to trek a one kilometer long arduous trail to get down to the falls. As you descend down to the fall, the sight is breathtaking; a steep fall from a great height scattering the water like beads. Those who so wish could take a bath there or . capture the beautiful sights and moments in camera. The height of this water fall is about 300 feet; but in the peak of summer it might be dishearteningly dry.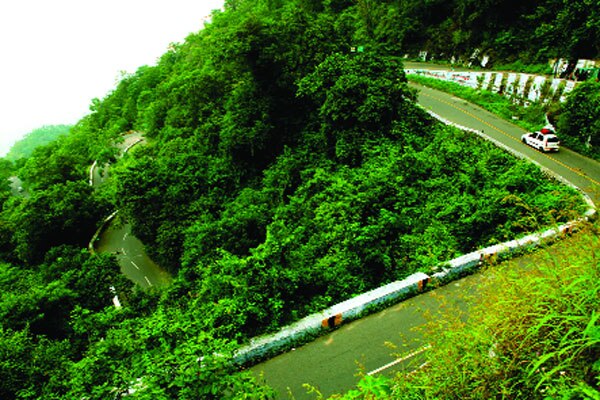 Selvarayan is the God of Yercaudan hill range. The Selvarayan temple is located at the highest point on a hill, about 5326 feet above sea level. The deities are Selvarayan and Kaveriyamma. There is a belief that one could travel up to the starting point of Kaveri river from this cave temple. Standing there, one could see Yercaud town and Nagallur also. The festival at this temple in May is a grand one. For that festival, all the people in and around Yercaud including the aboriginal tribes gather. The other pilgrimage centres in Yercaud are Rajarajeswary temple and the temple of Muruga.
The 'Bear Cave' is close to the Norton bungalow on the way to the temple. Now a favorite place of tourists, it is reported to have been a camp of bears in an earlier time. Although this is a private property, the tourists are allowed here. There is an orchidarium of Botanical Survey of India rich with rare collection of orchids like Lady's Slipper. Sunday is a holiday. The Botanical garden will be closed on Saturday, Sunday and also on all national holidays. The Bell Rock in the campus of Botanical Survey of India is an attraction for tourists. For entry the ticket charge is three rupees and. for cameras, it is 10 rupees.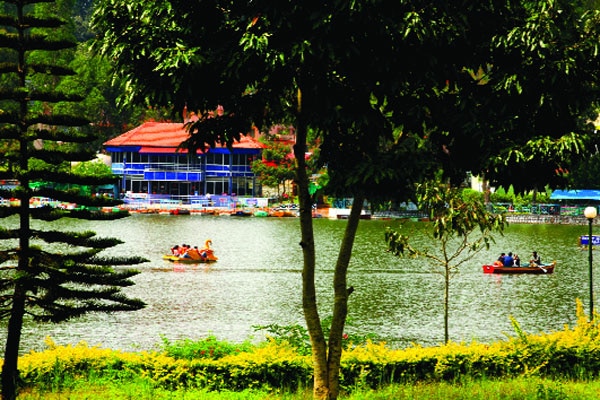 Lady's Seat is a bunch of rocks located at the south western side of Yercaudan hills. From here you can see the Salem-Yercaud Pass road. There is a telescope cabin here. Through that you can see Salem and the pass road. In clear weather you would get to see Mettur dam also far off. Near Lady's Seat there are a mulberry garden and silk worm breeding centre.
On the right side of the Lady's Seat there is Gent's Seat also; another view of the hill range with a caressing breeze. From the Pagoda Point you get an eastern view of Yercaudan hills. This is known as Pyramid Point also. You can see Aattoor and Ayodhyapattanam from this view point. The distance from Yercaud to this place is about five kilometers. On the way to this place there is facilities for Quad Biking. To enjoy the thrill of riding a Quad Bike on the rugged trail through coffee plantations, the charge is Rs. 100/-. You can buy vegetables and fruits from the big bazaar of the Sunday market or the small bazaars on Wednesdays. If you go to Arther Seat, you can have a sky view of Yercaud town and the lake. This view point is located just about a one kilometer from the town.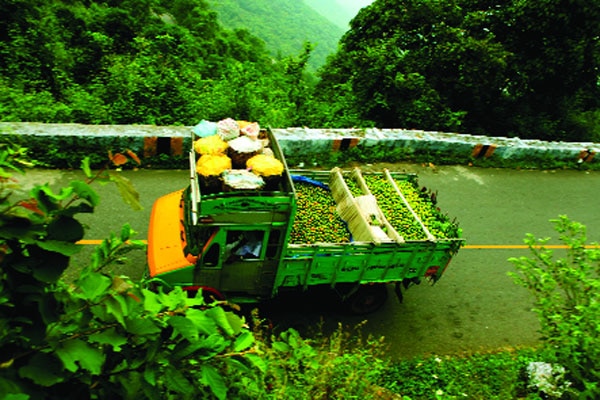 Thus, Yercaud hoards and offers a treat of visually diverse sights for the tourists: a tranquil beautiful world presented by coffee and orange plantations, rare plants and flowers and birds and serene wild trails; a must stay for at least one night, and a day for sight-seeing. With bungalows amidst coffee estates, resorts and regular hotels, Yercaud offers ample facilities for stay to tourists. As you come down the pass cherishing the visual treats up at the hill and relishing the cool breeze through the shades of the trees, just stop at the 16 th and 17 th bends and you could see the Salem city awaiting farther down. When you sense the heat of the city, you cannot help but look back from the busy world. Then one would willy-nilly say 'I shall come again'.
Yercaud


Yercaud is a hill station near Salem , Tamil Nadu, in the Servarayan range of hills in the Eastern Ghats . It is at an altitude of 1,500 mteres (4,920 feet) from the sea level. Yercaud is known for coffee plantations and orange groves.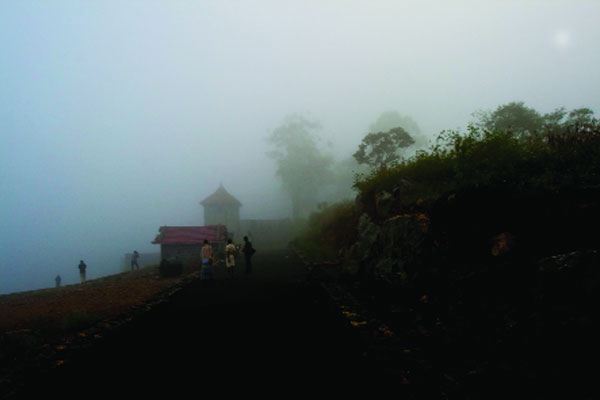 How to reach

By Road: Buses operate from Salem Junction and Salem Municipal Bus Stand to Yercaud frequently. There is no town bus service in Yercaud. But, certain buses coming from Salem ply through Yercaud and connect important villages like Cauvery Peak, Valavanthi, Nagalur, Vellakkadai and Swinton Bridge with Yercaud.
By Train: Salem Junction- 36 Kms. Salem Town-33 kms. Salem is connected to major cities like Cochin, Chennai, Bengaluru, Erode, Trivandrum and Mangaluru.
By Air: Trichy -163 kms. Other options are Coimbatore (190kms) or Bengaluru (222 kms).
Contact

Tourist Information Cetnre, Hotel Tamil Nadu Complex, Ramakrishna Road, Salem - 0427-2316449
Salem Railway Station 04342-260111
Salem Bus Stand 04342-260807
Tourist Information Cetnre, Dharmapuri 04342-230705
Distance Chart

Salem-32km
Trichy-163km
Madurai-271km
Chennai-358km
Coimbatore-190km
Bengaluru-222km
Chidambaram-228km
Cochin-373km
Pondicherry-239km
Thanjavur-253km
Hogenakkal-113km
Thiruvananthapuram-518km
Stay

Std Code: 04281
Glenrock Estate 09986026069
Hotel Yercaud International 82504281-222233
Clifton Inn 222911, 099524 21099
Hotel Tamilnadu 223334
The Regent Hill Side Resort 94437 00000
Ram's House 223372
Thendral Resort 222800, 94433 49204
Hotel Shevaroys 222288, 09944999599
Star Holidays 223337, 9443553618
The Lake Forest Hotel 223217
Hotel Grand Palace 223481
Tilakam Nest 223410
Classic Cottage 223388
Hotel SKT Residency 1968291633
Silver Holidays 222656
Sterling Holiday Resort India Ltd 222707
Fairholme Bungalow 94421 46266
Heaven's Ledge 226737
Grange Resort 222180
Select Hotel 222525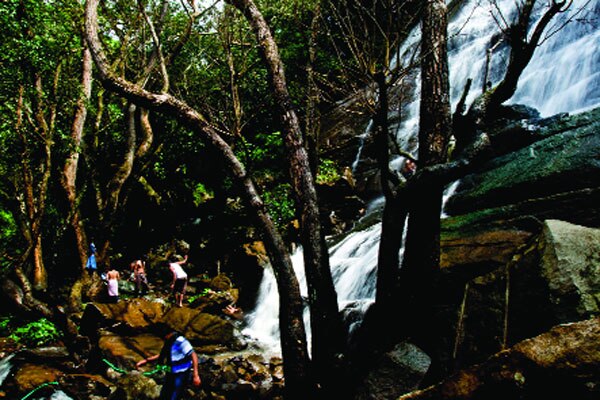 Tips

Just relax. Go and spend a weekend with family.
Go for walk around the lake. Visit the waterfall, temples, coffee planatations etc.
Do not miss hot chilli baji, Yercaud banana, Home made chocolates.
The uphill road to reach Yercaud has 20 hairpin curves and if you are not an experienced driver, make this part of the journey during the day time.
The rains can be very stormy and dangerous to drive uphill.
Carry all your medicines or first aid kit with you, as most of the medical shops or facilities are closed on Sundays.
Do not forget to carry some wollens especially if you aret ravelling with a kid.
Sights around

Killyur falls
Rajeshwari temple
Shevaroyan temple
Shevaroyan hill
Dirt biking near grange resorts
Pagoda point
Montfort school (only allowed on sundays. Not on saturdays.)
Text: G Jyothilal
Photos: SL Anand
Translation: Balachandran P