The adventurous family
Destination/ India/ Kodagu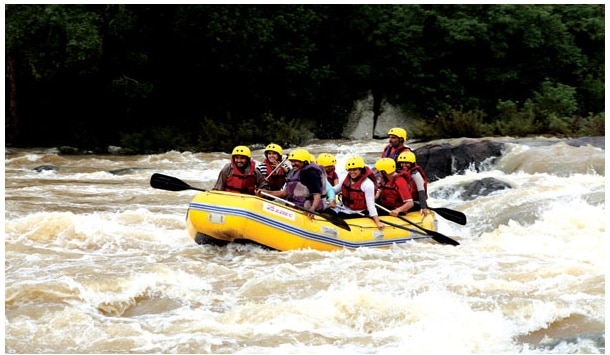 This is the story of a family who loves being adventurous. The family include Safar, his wife Afsath, children Safreena, Farseena, Moyis, Afsar and Safeera who all love to be adventurous and for whom adventure journey is part and parcel of their life. Yathra ventured in for a monsoon rafting with them in Cauvery.
The head of the family is Safar Ahmed, a businessman in Delhi. A man who went from Thalaseery to the capital of India to make a living and succeeded in setting up his business endeavor there. Afsath from Ancharakandi, who was a commoner till he married Safar, the penchant for adventure shared by Safar made an impact on her life too and slowly and steadily she too became part of his journey and now they go on well hand in hand.
They can be coined as a rare family. A family of adventure seekers. Safreen, their elder daughter is a pilot trainee in Chennai flying club. She had completed 70 hours of flying and also participated in a number of adventure sports like paragliding, Parasailing, microcline flying, canoeing, kayaking, wind surfing, rafting, coracle ride, trekking and river crossing. She is also acting as instructor in all such adventure sports.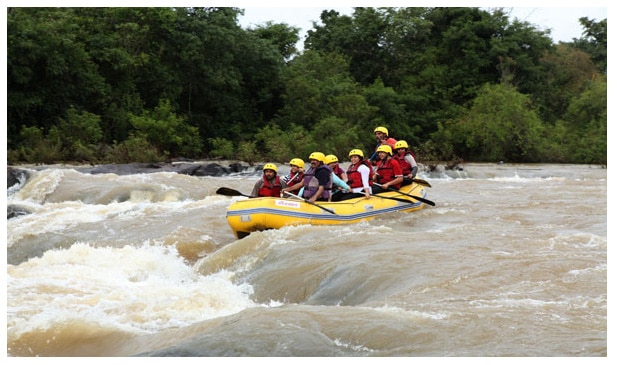 The next is Moyis Safar who is also undergoing training to become a pilot. Like his sister, he too acting as instructor in all adventure sports. Third is Farseena , she is pilot trainee in Delhi, an active participant in guides and junior red cross. Afasr is fourth one, though an active member in all crazy sports, his interest lies with Business. He is BBA student in Delhi. Safeera the younger one is also not behind anything. She is an NCC cadet and interested in aero sports and water sports items.
She is degree student at Guruvayurappan College.
Their main hobby is family adventure tours, which they organize every now and then. Sometimes for trekking mountains, sometimes for crossing rivers and flying gliders. They have all equipment needed for adventure sports. This time they set the journey for Mathrubhumi yathra, a journey to Kodagu, the land of brave men and pretty women. A monsoon rafting guided by heavy downpour. Our vehicle ran on Dubare in Madikkeri where river Cavery will be in roaring form due to monsoon, the best time season for river rafting. One team was in Indigo, the car which had seen most of the places in India and women adventurous are in the car driven by Moyis. When he will get tired all are ready to assist him including their mother. The rest was in ford fiesta and we headed to Madikkeri covering Vadakara, Kunjipally, Koothuparampa, Makoottam via ghat pass . Rain was showering above us in full force. The chicken samosa prepared by their mother added the spicy content to the already upbeat atmosphere.
We had a break once in lake side and next time near a paddy flied at Madikkeri valley. The paddy plantation works were going on the field. And as there is no language for agriculture , the whole family spends some time with farmers in the mud.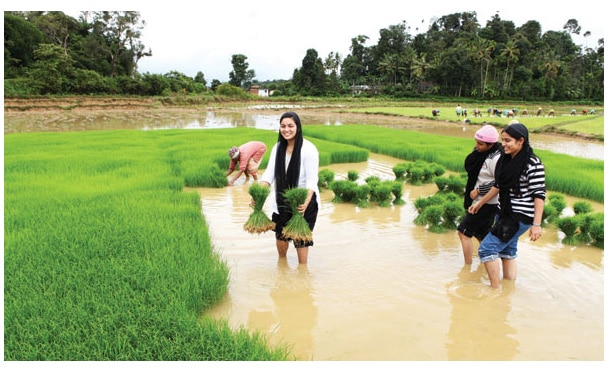 During 80's, the Safar family was in Delhi near Safdarjung airport. During that time, it was a haven for sky adventures. Seeing the gliders flying feeling the sky , Safar took baby steps in flying with winch glider . Once you fly, you will search for more, Safar says. When Safreena was only two and half year, he flied with her in his lap. All their kids love adventure since childhood. His wife was a commoner and after joining him she too changed. She had no inhibitions to join water sports with her
experience as good swimmer in Ancharakkandy river and joined him water sports and sky adventures too. This couple is now lifetime members at National Adventure academy.
Safar after moving into Kozhikode in 95, took initiative to form the Malabar aero sports social club. When the parasailing camp was held in Medical college ground, it was first of its kind in South India. During that time his nine-year-old daughter Safreena had flown. At present the society organizes parasailing, kayaking, coracle ride, rafting and aero sports.
He shared his dream of having an aero sports center with runway in Gundalpettu, Karnataka. After marrying off his girls, he will plan an all India tour with his wife in his motor bike.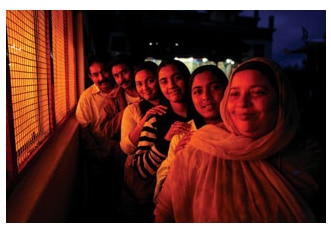 We have traveled all over India in our car and all the cars we owned have been to most of the places in India. We bought a Maruthi 800 first and during the month of Ramadan we began our journey to place named Bidar , a journey for 15 days. Two people will adjust themselves in dickey and there won't be any luggage bag. Dress will be draped in seats and we had many such journeys, all were unique and unusual. When kids grown up we bought Indica, says Safar. We had Delhi Mumbai journeys in that Indica. For the last two years indigo is their companion which also made some travels to Delhi and Chennai. Safar now wish to buy an Innova which will make the journey together more comfortable. When Safar continued narrating his life journey, our vehicles reached Madikkeri .
After having noon meals we went to rafting centers in Dubare. Here rafting is allowed only during monsoon. When we reached near the Dubare rafting starting point in elephant camp, we felt that the rain halted for some time for us. Cauvery was overflowing through both sides gulping even the trees. All the rocks, which are visible during summer season, are nowhere to be seen.
Photographer and a team went in a raft in front and adventure family followed. Our master was Manjunath. He gave us training as when he says forward we should paddle formed, back for rowing backwards and when he says stop we should stop rowing. When photographer was all set to take pictures, Manju gave him instruction to keep it safe in cover. When the raft reaches near rapids where the water flows in full force, its speed went up. We began to sway in the waves of Cauvery and photographer Saji called out for Guruvayurappan keeping his camera cover up which costs lakhs.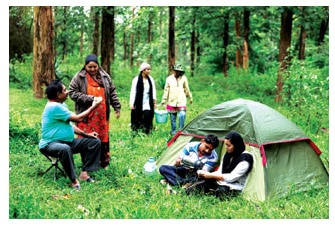 We successfully crossed the first rapid in Kottagiri. The rafts carrying adventure family came with all- merry and our camera man was trying to focus them when they came near to us. We had a tough time trying to stand firm against the heavy current to have pics of the family. There is no need to row the raft in places where the river stays calm. When we reached in such a place, Manju said those who want to jump in to water can do. At that place Manju shifted to raft of the family as to make it possible for having pictures when the raft nears the next rapids. He asked us to go in front. Then Vasu became our leader. Vasu was not as experienced as Manju and when we were near next rapid suddenly the waves rushed in to our raft and raft hit rock. We were immersed in water in waist length. But next wave kept back us in normal mode and it began to proceed downwards. Safar and his family were enjoying every bit of it and for them it was like just playing in water who have conquered the skies of adventures. There is one ore rapid left in this 8 km journey. The journey instills team spirit and new energy coupled with moments of adventures.
We were nearing the finishing point in Balgod. A team from Cauvery river adventure team was waiting there for us. Helmets and life jackets were shifted to jeeps and we were in another jeep. Vasu was not seemed to remove life jacket and helmet and when asked he said once he went in jeep in haste without removing them. The jeep met with accident and only he was escaped unhurt due to wearing this.
The rain which showed us its mercy for rafting began to strengthen. The vehicles, which were moving forward with help of wipers proceeded through Kodagu to Kushal Nagar. Our accommodation was at estate bungalow of Xplorer Coorg team. The rain was showering in its all might and we had a sound sleep in the warmth of the room.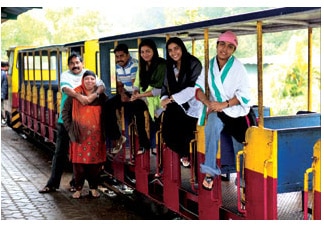 In the fine morning we went for trekking in Abby falls amidst the rain, which was not willing to withdrew even for a minute. But seeing the orange trees covered with oranges, rain never seems an impediment. The women adventurous began orange hunting and ate it though some were really sour. But the garden fresh taste is unique.
We were feared of leeches when we began the journey through forest. But we had luck as there were no leeches. When were having tough time walking the women gang was walking in all sprit. We spotted Abby falls , the water falls which is the replica of rage at present. We identified its real might when we reached nearer. We were in fear even to stand in the hanging bridge in front of it.
Our next destination was Tholpetty wildlife sanctuary. Our journey was through Virajpetta, Kutta and Mananthavady. During our journey we rested for some time installing tents and having tea and munching on biscuits. When rain came rushing to us, we packed all things and continued the journey. When we reached Adivaram after covering all views, it was 11 pm.
' We are busy with construction of our new home and business and kids have exams too, but amidst all this, such journeys fill new sprit and its a solace, said Safar who disclosed the secret of youthfulness at the age of 60. This family finds happiness not only in arranging journeys for themselves, but for others too and in giving them tips and information. They are all ready to give tips and instructions in adventure camps of NCC camps and Nehru Yuva Kendras. Through this they implements the message
`personality development through adventure journeys'. Though he is businessman, he never intends to make it business venture.
Travel Info


Dubare Rafting

Location:Dubare is located on the banks of river Cauvery in the district of Kodagu in Karnataka.


How to reach


By Air: Mangaluru-140Km,Calicut-200Km, Bangaluru-267Km.

By Rail: Talassery-110 km, Mysure-115 Km, Mangaluru-140 km. Bangalore-260 km

By Road: Reach Kuthuparamba either via Thalassery or via Kunhippalli (Vadakara route). Ride eastward, cross the border after Makkoottam bends and drive through Virajpetta to Dubare. (182 km from Calicut). You can also reach here via Kalpetta, Manathavadi, Tholpetti, Kutta and Gonikuppa approximate 170 km from Calicut. Dubare is on Bangaluru-Madikkeri road (22 km from Madikkeri).


Sights around and Distance Chart (Distance from Madikkeri)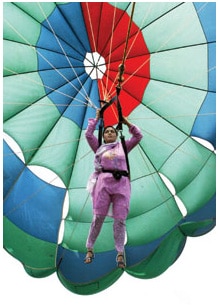 Omkareswara temple-1km
Fort-0.5kma Gaddige-1.5km
Abbey falls-8km
Bhagamandala-40km
Talacauvery-48km
Iruppu falls-85km
Nagarahole-96km
Kaverynisarghadama-28km
Dubare forest-34km
Harangi dam-32km
Golden temple-35km
Iggu thappa temple-35km
Nalakunadu palace-55km.

Best season: November to May. For monsoon rafting June to September.


Stay


Bamboo Loft, Ph: (08276) 267800
JLR Dubare Elephnat Camp, Ph: (08272) 200651/653
Coorg Dale, Ph: (08276) 267496
The Last Resort, Ph: (08276) 267540, (080) 25485705
Dubare-Inn-Resort, Ph: (08276) 267855, 321149
Riverside Cottages, Ph: (08276) 267476
Jungle Lodges and Resorts, Ph: (080) 2597021/7024

Contact: For River Rafting: Xplore Coorg, Ph: 09845246477
Cauvery Rivers Adventures, Ph: 0876 267543, 9741535753, 9449242477
Coorg Wildlife Society, C/o Kodagu Planter's Association, Post Box 111, near DFO quarters, Madikeri 571201, Ph: (08272) 223505. Tourism Office, Coorg 228580


Website:www.kodagu.nic.in


Traveler's circuit


Dubare water rafting centre is near to Madikkeri. Those who are going to Dubare , Coorg (Madikkeri, Kushal, thalakkaveri , Abby falls) is very close. If one is going through Mananthavady, Nagerhole and Tholpetty wild life sanctuary can be included in the journey.


Text: G Jyothilal
Photos: Saji Chunda
Translation: Shamila KY