A ride on 'Harley' with Sheeja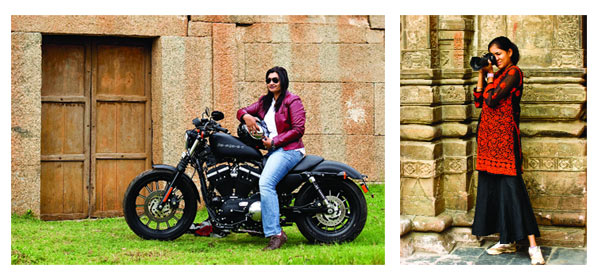 A 'Harley ride' conducted by photographer Jyothi Kaarat with Sheeja, the first woman who owned a Harley Davidson bike in the country.
Even now super bikes are very rare in India; especially Harley Davidson. A ride with a girl on her own Harley. What to tell. It is too much an excitement!
She is Sheeja Mathews, a citizen of Kottayam. Wherever she goes, she is a star. She is a super star for both the Bangalooriyans and the country children of Nandi hills! When her Harley Davidson passes away like a wind, everybody will open his or her mouth in wonder and excitement. Sheeja had already given me warning that wherever we go there will be a crowd formed around the bike. That was true. Wherever you park, it will not make any difference!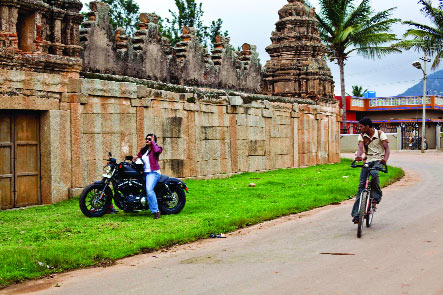 The road to Nandi Hills was first class. This rod is favorite to the bikers. The views of Nandi peak and the valleys attracted us.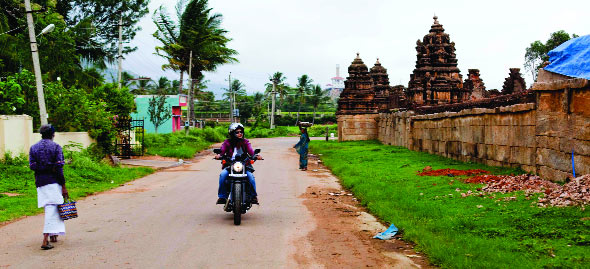 Before we enter in to the views of the hill, there is the ancient Bhoganandeeswara Temple in the valley. Usually we never note the wound marks of the war. But at the first glance you will know that Bhoganandeeswaram had survived many wars and changes of weather. It has experienced love and peace.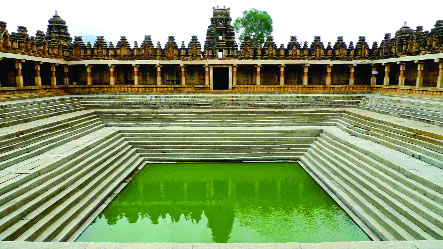 This construction of the Chola Kings had been attacked and renovated by many generations.
While the history of the temple echoed in the background, I kept on looking at the old face of the guide. It is like any other temple where a lot of wars and changes of weather had happened.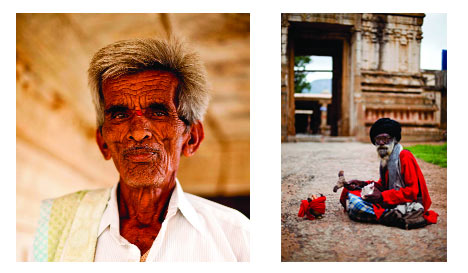 A temple without any visitors or pilgrims, more or less we felt that we are the owners of that temple. Only the monk sitting at the entrance of the tower called us from behind repeatedly.
The huge statue of Nandikesa is hidden some where between the mountains which cannot be seen at a glance.

There where other tourists also. And I have seen monkeys. May be they are from the neighboring empire Kishkindha. They were running over the top of the cars and around the rocks.
In between we noted something, now the authorities of the small shops near by are children. The elders have gone for rest.
When the sun rose up, tourists started to appear everywhere on the hill. The families came for picnic and the couples loving loneliness sat on each rock looking at the views in the valley.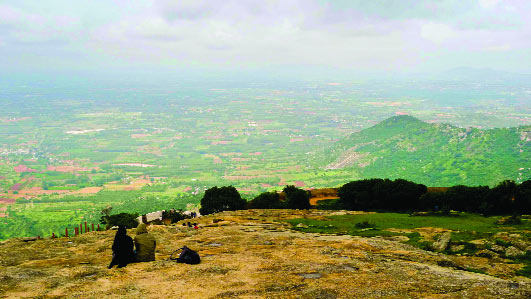 Like every good things, this small adventure ride with Sheeja is also coming to an end. It is time to go back. Before Sheeja's bike return to the crowds of Bangaluru I thought about seeing the valley once again. We stopped the bike at the bend, which was declared as dangerous zone. A final glance at the beautiful views. Then separating ourselves from the snow clad beautiful river we started to come down.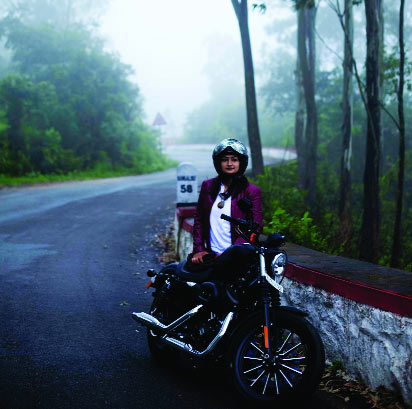 Tips from Sheeja


Attention: Harley Riders

Be safe. Wear a helmet and watch for traffic and riders who are on their cell-phones.
Always wear good riding gears - jacket, riding jeans, boots - the engine heats up so you need to be careful or you will get blisters
Riding a Harley is like enjoying a fine wine. Take care to notice the make, model and strengths and weaknesses of the particular model you are riding.
Be ready for the extra looks you will get on the roads - there will be guys who will try to bully you
Last but not the least experience the long enjoyable ride in the free roads during the weekened !!


Nandi Hills

Nandi Hills, also known as Nandidurg, is an ancient hill fortress located in the Chikballapur Dt. of Karnataka at 4,851 feet (1,479 m) above sea level. This nice and pleasant hill top is connected by a good ghat road with around 32 curves out of which only few are hairpin bends. The view from the hill is awesome.


Location

60 kms north to Bangaluru city centre.


How to reach

By Air: Bengaluru (60kms)
By Train: Bengaluru (60kms)
By Road: From Bengaluru drive north along Bellary Road towards Devanahalli via Yelahanka. Turn left and proceed to Karahalli Cross and again turn left towards Betta Cross. Nandi Hills is 8kms away from here. KSRTC buses ply via Chikkaballapur. (Take private transport. You can stop at your will to take videos and pictures)


Season

Nandi Hills has moderate climatic conditions round the year; therefore, it can be visited any time of the year.


Stay

Preferably stay at Bengaluru. Nandi Hills has got limited accommodation facilities for tourists. Nehru House, a guest house owned by horticulture dept, where 25 rooms are available is the better option.


Tips

Take food along with you. You can get food/snacks on the hill top, but with more price. Beware of drunk groups and eve teasers. Avoid lonely paths and late roamings. Beware of monkeys who will snatch your food away and stray dogs.


Sights around

Amruth Sarovar : A beautiful lake.Tippus Summer Palace and Fort: This used to be Tippus summer bungalow. Gavi Veerabhadra Swamy Temple : On the way to the Sultanpet, from Tippus palace, natural formation of huge boulders. Fort: The fort built on a sprawling area of 90 acres and is above 4851 feet above sea level. Horse Way: A stone doorway in the fort built for helping soldiers to climb the wall on horse back. Palar River Origin: Palar river takes its birth as a small spring on the eastern side of the hill. Brahmashrama: A serene place built by huge natural boulders. Yoga Nandeeshwara Temple: A temple of exquisite, intricate carvings. Tippu Drop: During Tippus reign, criminals were pushed down from this point to their death as punishment. Arkavathi River Origin: Arkavathi River takes its birth on the south-west of the hill. Secret Passage : A secret escape passage on the west, believed to be the Kings' escape route. Childrens Playground: a lovely garden for children to play. Muddena Halli: Muddena Halli, situated 21 kilometers from Nandi Hills, is the birthplace of Sir. M. Vishveswarayya. His ancestral home, where he was born, has been preserved as a museum for public viewing. Other interesting places: Anjaneya temple, Nellikayi Basavanna, Antaragange, Baananthi Bande, Bhoga Nandeeshwara temple etc.


Text and Photos: Jyothi Karat
Translation: Balachandran P