Fahadh Faasil (left), Press release of FEOUK (right)
The Film Exhibitors United Organisation of Kerala (FEUOK) has confirmed that the media reports stating the organisation warned actor Fahadh Faasil against acting in movies for OTT platforms are baseless. The FEUOK made it clear through a press release.
Earlier, some reports had come out stating that the FEUOK warned Fahadh Faasil about a ban as his movies are continuously released through OTT platforms. Following this, discussions heated up on this matter. However, the FEUOK has now clarified that they have no issues with Fahadh Faasil or his movies.
Three movies of Fahadh were released via OTT during the lockdown period. 'C U Soon' directed by Mahesh Narayanan, 'Irul' directed by Naseef Yusuf Izuddin and 'Joji' directed by Dileesh Pothan were his latest films.
The FEUOK was of the opinion that they would not allow Fahadh's movies in theatres, if he continues to cooperate with OTT platforms. However, in the press release, they rejected the allegations and reports in this regard.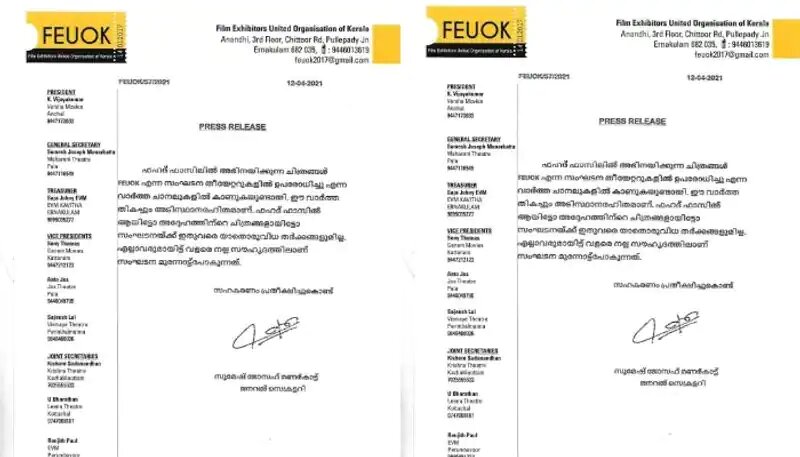 Disclaimer: Kindly avoid objectionable, derogatory, unlawful and lewd comments, while responding to reports. Such comments are punishable under cyber laws. Please keep away from personal attacks. The opinions expressed here are the personal opinions of readers and not that of Mathrubhumi.