Schwarzenegger admits to fathering child out of wedlock
LOS ANGELES: Arnold Schwarzenegger fathered a child nearly a decade ago with a member of his household staff, leading Maria Shriver, his wife, to move out after he told her earlier this year, according to people close to the family. In a statement Tuesday morning, Shriver called it 'a painful and heartbreaking time' for their family.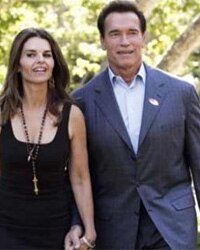 Schwarzenegger with his wife Maria Shriver
Schwarzenegger issued a statement Tuesday morning acknowledging the events, and said he informed Shriver of the affair after he finished his term in office in January. The baby was born before Schwarzenegger was elected in a special election in 2003.
The revelations were first reported Monday night by The Los Angeles Times.
'After leaving the Governor's office I told my wife about this event, which occurred over a decade ago,' he said in a statement. 'I understand and deserve the feelings of anger and disappointment among my friends and family. There are no excuses and I take full responsibility for the hurt I have caused. I have apologized to Maria, my children and my family. I am truly sorry.'
Schwarzenegger's associates said that the employee, who was not identified, moved out of his mansion and that she has since retired with a severance. They said that Schwarzenegger was paying full child support.
The report comes after Schwarzenegger and Shriver, who have four children together, announced that they were separating after 25 years of marriage. They were a couple who commanded widespread attention because of their unusual pedigree: Schwarzenegger, a Republican, is a former movie actor and body builder. Shriver is a member of the Kennedy family who gave up a career as a television broadcaster in deference to Schwarzenegger's desire to enter politics.
In her statement Tuesday, Shriver asked for privacy.
'As a mother, my concern is for the children,' she said. 'I ask for compassion, respect and privacy as my children and I try to rebuild our lives and heal. I will have no further comment.'
The couple at the time asked friends not to discuss the situation with members of the media, pleading for privacy. Schwarzenegger — who since leaving office has announced his plans to go back into the movie industry — made a similar plea Tuesday morning.
'I ask that the media respect my wife and children through this extremely difficult time,' he said. 'While I deserve your attention and criticism my family does not.'
Schwarzenegger has continued to live in a gated mansion he owns at the end of a long road in Brentwood. Ms. Shriver moved to a hotel.
The Los Angeles Times did not identify the member of the household staff. But the newspaper said she had worked for the family for 20 years before retiring this year. The paper quoted her as saying that she had received a severance payment and that she had 'left on good terms with them.'