heatre guru Satyadev Dubey passes away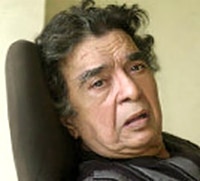 Mumbai: Renowned director, actor and
screenplay writer Satyadev Dubey passed away here this morning
after suffering from a prolonged illness. He was 75.
'He was in coma for the past few months. He suffered a
brain stroke and passed away at the hospital at 11.30 am,'
said Satyajit Dubey, his grandnephew.
The veteran playwright and director suffered a seizure at
Prithvi Theatre Cafe in suburban Juhu in September this year,
and since then he was in coma.
Dubey's health was fragile for quite some time and he
was in and out of hospital in the last few years.
A Padma Bhushan awardee, Dubey had become a legend in
Marathi-Hindi theatre. Though born in Bilaspur, Chhattisgarh,
he made Mumbai his home, and became a towering figure of the
Marathi theatre.
In his long career, he produced/directed plays of all
the prominent playwrights of post-Independence period: Girish
Karnad (Yayati, Hayavadana), Badal Sarkar (Evam Indrajit,
Pagla Ghoda), Chandrashekhara Kambara (Aur Tota Bola -
Jokumaraswamy in original Kannada), Mohan Rakesh (Aadhe
Adhure), Vijay Tendulkar (Gidhade, Shantata! Court Chalu
Aahe).
He also penned film scripts/dialogue, including Shyam
Benegal's 'Bhumika'.
His theatre workshops too were much sought-after among
the amateurs and professionals alike.
'Satyadev Dubey the icon of the world of theatre has
passed away! Fond memories of our days of wandering invade me.
Alvida Dubeyji! Love,' filmmaker Mahesh Bhatt tweeted.