Ahana is now open to acting: Hema Malini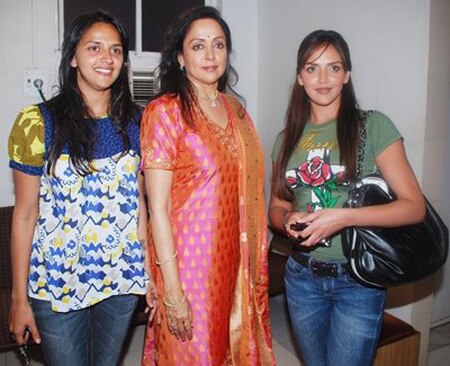 Ahana, Hema and Esha
When Esha Deol forayed into Bollywood in 2002, it was speculated that younger sister Ahana would follow suit soon, but nothing of the sort happened. And now mother Hema Malini reveals that Ahana is willing to take up acting if something interesting comes her way.
'Ahana does lots of things, that's the problem with her. She is a fashion designer and she is writing some scripts. Then she also gets acting offers. She has decided that only if she really likes something, then she will take it up. She doesn't want to do the regular, commercial stuff. But now she is open to acting,' Hema told IANS in an interview.
Ahana is two years younger to Esha and she has been avoiding the arc lights saying she would like to direct. However, acting is a family thing for the 26-year-old, who is a trained Bharatnatyam dancer just like her mother and sister.
As far as Hema is concerned, after staying away from the big screen for more than a year, the 'Dream Girl' of an earlier era is looking forward to 'Bbuddha...Hoga Terra Baap', in which she will share screen with Amitabh Bachchan after five years.
They were last seen together in 2006 film 'Baabul'.
'I'm playing Amitji's wife in the film, but we are separated and it's basically about how later we meet and everything is revived. It's a nice role. I accepted it because it's always nice to keep coming back on screen,' said the 62-year-old thespian.
'Bbuddha...Hoga Terra Baap', directed by Puri Jagannath is slated to hit screens July 1.
The actress, who has worked with the Bollywood megastar in many films including 'Satte Pe Satta', 'Nastik', 'Sholay', 'Baghban' and 'Veer-Zaara' among others, says there has been no change in the 68-year-old actor in all these years.
'There has been no change in Amitji in so many years. He is a good and dedicated actor... whatever role is given to him, he does it so well. It's a pleasure to work with him.
'He is also very lucky, he keeps getting good roles. We heroines don't get good roles. I feel very jealous about that,' added the actress who is also busy with her directorial venture 'Tell Me Oh Khuda', which is said to be her daughter Esha's relaunch vehicle.
Hema will also be seen in a cameo in 'Aarakshan' that again has Amitabh in a pivotal role.
From acting to directing to dancing, Hema packs a punch. When asked how she juggles so many roles, she said: 'I'm glad that I'm able to do everything. But it is a tough thing. It's not easy because you have to look after the house, family, children, acting, dance, production. Sometimes I go mad. But I'm happy that I'm still able to do it.'