Poor sleep leads to alcohol and drug addiction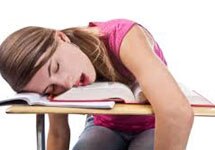 Washington: Sleep difficulties and hours of sleep can predict a number of specific problems, including binge drinking, driving under the influence and risky sexual behaviour, shows a study.

The association between poor sleep and substance use has also been found in younger population.

'Among normal adults, sleep difficulties and insomnia have predicted onset of alcohol use one year later, and increased risk of any illicit drug use disorder and nicotine dependence 3.5 years later,' said Maria M. Wong, professor and director of experimental training at Idaho State University.

For their study, Wong and her co-authors analysed data collected from 6,504 adolescents (52 percent girls, 48 percent boys) participating in the National Longitudinal Study of Adolescent Health.

They used sleep difficulties to predict substance-related problems at a subsequent wave, while controlling for substance-related problems at the previous wave.

The consequences of sleep difficulty and sleep insufficiency when added to use of alcohol or other substances can impact both medical and behavioural areas.

'This study has added to the existing literature by establishing the relationship between two sleep variables - sleep difficulties and hours of sleep - and the odds of serious alcohol- and drug-related problems in a nationally representative sample,' Wong pointed out.

'This paper is important in that it advances our understanding of the relation of sleep to substance use problems to include not only problems sleeping, that is, trouble falling asleep and/or staying asleep, but also insufficient sleep, addressed here as hours of sleep,' concluded Tim Roehrs from Henry Ford Hospital.

The results of the study will be published in the journal Alcoholism: Clinical & Experimental Research.