Pad Thai Noodles are certainly among the most popular Thai dishes and it's always been a favorite. Pad Thai Rice Noodles are 100% natural, fat-free, wheat-free and gluten-free.

1. Rice noodles 2 packets
2. Chopped onion, carrot, Cabbage, Beans, Spring onions 200 gm
3. Sprouted green gram 1/4 cup
4. Roasted and powdered groundnuts 1/4 cup
5. Salt, sugar 1 pinch
6. Fish sauce 10 ml
7. Soya sauce 10 ml
8. Thai herbs needed
9. Sunflower oil 200 ml
10. Egg 2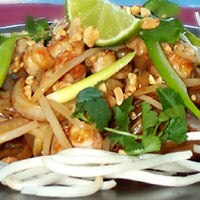 Cook the noodles and keep it aside. Saute the ingredients 2 to 8 and then add the boiled noodles to this. If needed, you can add cooked chicken pieces or fish or vegetables. Make scrambled eggs and sprinkle on top of it which is the style of pad thai noodles.