A mild and fragrant easy recipe, with basmati rice and green peas, the colourful combination is unbeatable.

Basmati rice 1 1/2 cup
Green peas ½ cup
Cloves 4
Cinnamon small piece
Bay leaf
Onion 1
Slit Green Chillies 3
Ginger garlic paste ¾ teaspoon
Sugar a pinch
Chopped pudina leaves ¼ cup
Water 2 cups
Salt to taste
Ghee 1 tablespoon
Oil ½ tablespoon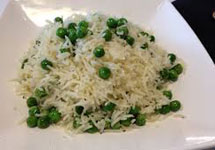 In a pressure cooker, sauté cloves and bay leaf in ghee and oil. Add chopped onions, green chillies and then mix the ginger garlic paste for about 3 minutes. After stirring the mixture by adding green peas, salt and a pinch of sugar, add the washed and drained rice. Stir it for about 2 minutes. Allow it to cook in simmering heat with boiled water. After 15 minutes when the rice and green peas gets cooked, sprinkle chopped pudina leaves on top.