Egg fried rice is a simple recipe and can be prepared on special occasions. All ingredients are available at home any time and children would love this delicacy.

Sujaya Ashok

1. Boiled Biriyani Rice 1 cup
2. Chopped Carrot, Capsicum, Beans, Cabbage 1/4 cup
3. Eggs 2
4. Pepper powder 1/4 teaspoon
5. Soya sauce 1/4 teaspoon
6. Oil 2 teaspoon
7. Salt to taste
8. Finely chopped coriander leaves 1/4 cup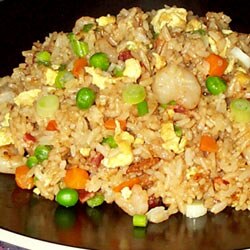 Saute the chopped vegetables with a little oil and salt. Beat the eggs nicely and make it into scrambles with little pepper powder. Then add the boiled rice to the vegetables and a little salt, pepper powder, soya sauce and mix it well. Then add the scrambled eggs with coriander leaves. Egg fried rice is ready.