Nursing Concern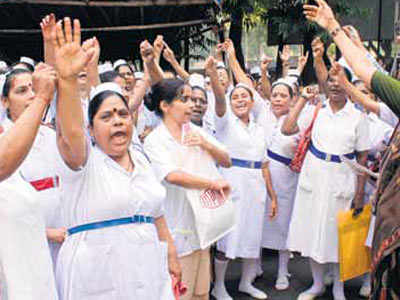 They are considered successors of Florence Nightingale who cared for the people in the battlefield with the help of a candlelight. The services of nurses, in their white attire, are needed by everyone and are always acclaimed.

But majority are not bothered about looking into their lives and their sufferings during the course of their work. Though all nurses are not Malayalees, majority are. In Delhi alone, there are half a lakh Malayalee nurses working in various private hospitals. In Mumbai, Chennai, Kolkata and Bangalore too, there are majority of them.

Are nurses who approach other states for better pay than private hospitals in Kerala really secure? The suicide of Beena Baby from Idukki in Mumbai says they are not. If they are well protected, where is the need to hold protests on streets in Mumbai and Kolkata?


Money, even to be relieved


The story of a nurse Asha is not different either. Even after repeated requests for leave to attend to her ailing mother, the authorities of a famous private hospital in Delhi, did not allow her to go to Kerala. Then she decided to go ahead without the hospital's permission. She spent 10 days with her mother and came back to Delhi only to get the news that her mother passed away on the day of her return. She again went to Kerala and after completing the last rites she came back. But the authorities did not allow her to resume duty. No one gave ear to her statements. She asked the hospital authorities to return her certificates. But they asked her to remit Rs 50,000. As she did not have money, the nurses welfare association interfered and solved the issue. She is now working with another private hospital.

In government hospitals, if the nurses start with a pay of Rs 30,000, it is Rs 6000 in private hospitals to a maximum Rs 8000. They have to continue service for many years in this salary. There is no difference in the pay scale of diploma holders, BSc Nursing or even if they have secured MSc. If they shift service to another hospital, their experience is never counted and they are forced to begin fresh service.

The conditions for joining service are also strange.

Nurses are made to submit all original certificates. They would be given appointment order only if they sign a bond. If the nurses want to be relieved to go abroad, they need to pay the bond money ranging from Rs 50,000 to Rs 1 lakh. If they fail, the authorities do not return the certificates. In a case in Delhi, after the intervention of Pravasi legal cell, the Delhi HC came to the rescue of some Malayalee nurses.


Managements thrive by suppressing nurses.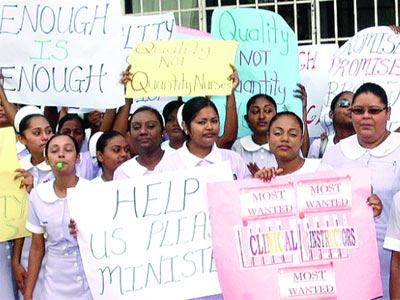 When a Malayalee nurse in Noida got pregnant after her marriage, the authorities forcibly made her to resign as they were reluctant to give maternity leave and related allowances. Though PF allowances were mentioned in her appointment order, she received nothing.
Another issue is of work burden. Though in paper the working hours are 6 hours, they are not able to leave even after 11 or 12 hours. Extra pay too is not given. Another Malayalee nurse from UP said some times they are made to work for 27-28 days continually without leave. Even if they are ill, there is no mercy.
As per international standards, 6 nurses are needed for a patient in a ward and in ICU one each for a patient. But in private hospitals, one nurse is taking care of at least 12 in a ward and in ICU more than three. When suppression becomes the order of the day, nurses protest and that may eventually lead to suicides.
Beena Baby who was a nurse at Wadra Asians Heart Institute committed suicide on October 18 in her hostel room. Her duty was at the ICU. The hospital authorities blamed her for missing the records of a patient. When she decided to resign, the authorities were not ready to give back her certificates which led to her suicide. To protest against this, as many as 300 Malayalees began strike defying police lathi charge. Maharashtra governor K Sankaranarayanan, chief minister Oommen Chandy, MPs PT Thomas, Antony Anto intervened. The officials were forced to give back all certificates and the nurses were given experience certificates too. 120 of the nurses, who were involved in the strike, left the hospital.
The same incident happened at the Kolkata Raveendranath Tagore international Institute of Cardiac Sciences where 1200 nurses threatened mass resignation and among them 1000 are Malayalees. They are earning only Rs 8000 per month for years.
Torture continues

Their plight comes to light only when they march on the streets shouting slogans. There has been no sincere effort to solve their problems. Following the agitation in Bathra hospital in Delhi in 2010, it was reflected in many other hospitals like Maharaja Agrasen, Matha Channadevi and Metro in Delhi. All protests were held in January 2010. Nurses went on strike continuously for three days here.

The nurses earned between Rs 3000 and Rs 4500 and Rs 500 was deducted for PF. The strike was for increasing the wages. The nurses gave a notice to the authority that they would be on strike on January 11, 2010. On that day before the strike, the authorities locked up all nurses in a room. A goonda group threatened them in the hostel. A male nurse who questioned them was brutally attacked. Later the issue was solved after the nurses welfare association intervened. The protestors were given salary hike.

Siju Thomas from Pathanmthitta is unemployed for the last one year. His only crime was that he reminded the management about their promise of a salary hike. Siju led the strike in Bathra hospital and when the hospital authorities failed to keep up their promise, he filed a petition. He was suspended thereafter. Though he was ousted, Siju is continuing his protest and formed a Delhi private nurses association.

One of the negative aspect of the strike is that managements are not ready to appoint male nurses as they fear they might retaliate. But the protest in Asian Heart hospital where Beena committed suicide proved that there is no gender difference when it comes to protest.

The Indian Nursing council issued an order against keeping certificates and imposing a bond which are against rules. The same was issued with the intervention of Anto Antony, MP, who is also a member of the council. But still there are many hospitals which are not abiding to this rule even though the council had issued notices.

Many petitions have been submitted to curb atrocities against nurses and Antony Anto too had demanded framing of a law to offer protection to nurses in parliament, no action was taken. Now, he is all set to submit a private nursing bill in the winter session of parliament.

Though unions are not allowed in private hospitals, the need for unity is high among them. When Indian Professional nurses association opened an account in Facebook, thousands came to register their protests.

As a sense of insecurity is high among nurses, they have approached some naxal organizations for a helping hand in Kolkata. This should be viewed seriously.


Govt's callous attitude


How can one treat nurses as slaves, asked Delhi chief Justice Deepak Mishra to authorities of the Indraprastha hospital in Delhi while hearing the petition filed by a Malayalee nurse Ancy. The court said this while considering the public litigation petition submitted by the Pravasi legal cell. In another case the court gave a warning to hospitals that they can't behave rudely to nurses. In Ancy's petition, the court asked the Delhi government to frame guidelines for job protection for nurses within three months. Pravasi legal cell president Adv Jose Abraham said the court order was not fulfilled so far and there was even no reply after forwarding an application to the union health ministry.

There is no law for the welfare and security of nurses. The central government passed the Clinical Establishment (registration and regulation) Act 2010 for regulating and scrutinising private health care sector. The act itself says there is no one to control the functioning of private health sectors. The rule says nurses are public servants. A public litigation directed it to frame this act by including rule for work security. As a practical solution, the nurses welfare association and Delhi private nurses association have decided to be party to the petition.

Anto Antony MP pointed out the need for a comprehensive nursing act, which covers salary, medical allowance and patient-nurse ratio. Nurses welfare association president Usha Krishnakumar pointed out that national-state level observation board should be formed.

Delhi private nurses association forwarded demands to make minimum wages as Rs 15000, give a hike of 20 % every two years, while appointing experienced nurses give 20 % hike, give allowance of Rs 2000 in ICU, OP and emergency sections, make the ratio of patient nurses to be 5:1 in wards and 1:1 in ICU and also included medical allowance and leaves. There are 17.5 lakh registered nurses in the whole nation and among them 12 lakh are Malayalees. Why is the government and society keeping mum when majority are undergoing torture? It's time for the government to answer them.