Travelator to make Shirdi Sai Baba temple visit hassle-free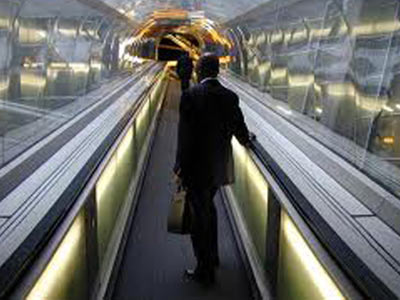 An example of a travelator, or moving walkway, that is expected to make the visit to the Sai Baba temple in Shirdi, Maharashtra, hassle free.

For the first time in India, the famous Sai Baba temple in Shirdi is planning to install travelators, or moving walkways like the ones at airports, to facilitate quick and hassle-free darshan for thousands of devotees who visit the shrine daily.

The project, tentatively estimated to cost Rs.60 crore, is planned at the old 'prasadalay', a short distance away from the main temple complex, where the larger-than-life size statue of Sai Baba is installed. It is expected to cut waiting time for darshan to less than an hour.

A travelator is a slow conveyor belt that transports many people simultaneously, horizontally or on an incline, similar to an escalator.

'On an average, more than 50,000 devotees from India and abroad throng the temple daily for Sai Baba's darshan. On special days, festivals and vacation seasons, the figure goes up over 10 times,' Shri Saibaba Sansthan Trust Shirdi (SSST) chairman Jayant Sasane told IANS.

The huge rush forces the devotees to wait in long queues, sometimes up to 10-12 hours, for a glimpse of Sai Baba.

'It is very tiring for senior citizens, sick and handicapped persons or pregnant women to wait for such long hours for a brief darshan. We hope that the travelator will reduce the waiting time to less than one hour per batch of devotees,' Sasane told IANS.

Architect Hafeez Contractor of Mumbai has been signed up to prepare a master plan for the new darshan complex which will include travelators.

Sasane said that until the architect's plans were finalized, it would not be possible to estimate how many travelators would be required and what would be the carrying capacity and related aspects of the project.

On an average, a single travelator can move 25,000 people over a certain specified distance safely, without jostling, an official from the temple complex explained.

A stampede spells the worst for any temple complex and scores of such incidents have taken place in the past claiming hundreds of lives, the official said.

Automated systems like travelators would eliminate jostling for space and a chance to get a view of the idol of Sai Baba. The travelators would move slowly at a certain speed, covering a certain distance, and afford all its occupants a few minutes of darshan, he added.

At a later stage, the SSST plans to extend the travelator facility right up to the main approach road to the Sai Baba temple complex, making the darshan even quicker and drastically cutting down the waiting period.

The travelator will help reduce other expenses on building sheds to protect devotees during monsoon and summer, the temporary metal queue railings and volunteers to man the queues of waiting pilgrims, he said.

Besides the proposed travelators, the SSST already offers modern online facilities like darshan, donations, aartis and accommodation bookings.

Sai Baba lived and preached in and around the Shirdi temple town, around 285 km from Mumbai in Ahmednagar district, in the late 19th and early 20th century. He is revered equally by Hindus and Muslims, as by people of other religions, who throng here from all over India and other parts of the world round the year.